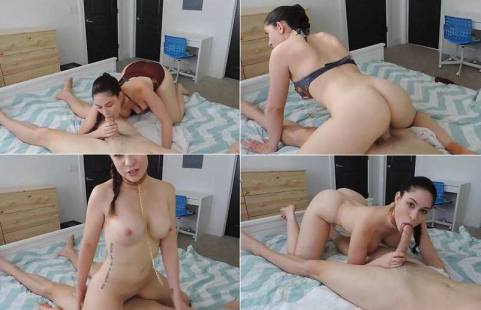 Ashley is your little fuck toy dressed as Slave Leia today. Do you want to use her? Her job is to serve you Master and make you feel good. Ashley crawls onto the bed next to you and starts stroking your dick. She takes it in her mouth and begins to suck you. She worships your dick and body. Ashley shakes her plump ass behind her while she sucks so you can enjoy even more. Once your cock is hard, she asks if she can ride Masters dick.
Ashley slides off the bottom part of her costume and straddles you. She rubs the tip of your dick against her pussy lips and then slowly slides it inside of her. She rides you telling you how much she loves Masters dick. Ashley rides cowgirl for a while, but knows that you want to see her ass as well. She turns around and rides you reverse, bouncing her ass up and down on your dick. After a little bit, she gets off of you again and tastes her pussy off of your dick. She loves doing whatever you want.
She sits on your dick again, taking off her bra now so you can look at her big tits as she rides. She asks Master where he wants to cum. You tell her to suck your load out of you so Ashley obliges. Ashley strokes and sucks your dick until you explode in her mouth. She plays with your cum in her mouth a bit before letting it dribble out all over her tits. Do you like that Master?
Format: mp4
Resolution: 1280 x 720
Duration: 00:14:48
Size: 123 Mb