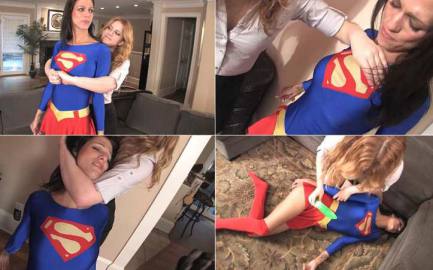 Not all Kyptonians are created equal.
Even though they all reap astounding benefits when exposed to our Yellow Sun, their response to that energy varies between individuals. They tend to enjoy the same basic set of powers, but their vulnerabilities can very wildly. Unfortunately for Super Kelly, she seems to have the worst of it. If that wasn't bad enough, the intrepid reporter Jacquelyn Velvets is determined to viciously expose Kelly's weaknesses.
After all, ratings don't boost themselves.
When Super Kelly accepts Miss Velvets's invitation to appear on her syndicated talk show, the heroine anticipates some hardball questions. She doesn't expect her ribs to be crushed in front of a live studio audience. Like most reporters, though, Jacquelyn can be relentless. Will the alluring alien be able to find a way out of Jacquelyn's grip, or will she be totally humiliated on live TV?
This movie contains multiple extended front and reverse bear hugs,
Format: mp4
Resolution: 1280 x 720
Duratio: 00:29:56
Size: 494 Mb