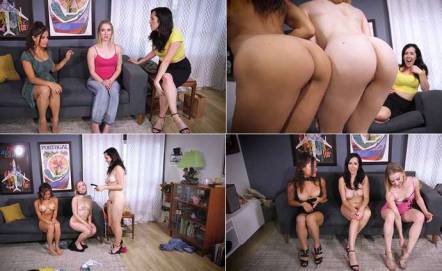 Dixie comes home from shopping and greets her two roommates Riley and ChiChi. She tells them how she went to this cute little boutique that was selling this special perfume and asks them if they want to sample what she got. The girls anxiously agree and Dixie sprays them with the perfume. Suddenly the two girls feel dizzy and woozy then the feeling passes. Dixie then asks Rylie if she has ever thought about being a lesbian. Rylie responds to dixie saying eww no never. ChiChi chimes in and says you know she has a boyfriend. Dixie then tells Rliey she is going to be a slutty lesbian. At first Rylie is baffled and confused but can't resist Dixie's command and begins talking dirty to Chi Chi and Dixie. Chi Chi is shocked that her straight friend is now coming on to her and on top of that acting super slutty and playing with herself through her clothes. It's so unlike her. Dixie then tells ChiChi not to be a prude and join in as well. ChiChi's attitude suddenly changes and she is now flirty and super happy to make out and fondle Riley's body.
Dixie tells her roommates that they would all feel more comfortable if they took off their clothes and to give her a strip tease. ChiChi bites her lip because she is so horny and begins following Dixie's request. Rylie joins her and they both begin to strip out of their clothes while grinding on each other and shaking their asses for Dixie's approval. Dixie continues to give them commands and suggestions until they are both stripped completely naked. Rylie and ChiChi are now brainwashed completely into horny super sluts and just want to have sex all the time. They tell Dixie how hot and sexy she looks and come on to her. They strip her out of her clothes while groping and grinding on her. Once she's naked as well they begin sucking and licking her nipples.
Dixie is enjoying the attention but decides it's time to have a different kind of fun. She passes her phone and tells her to call and break up with her boyfriend. She laughs as Riley happily dumps him with a smile on her face. Next she pulls out two slave collars and puts them on Riley and Chi Chi. She attaches leashes to their collars and has them crawl around the room on their hands and knees. Dixie so enjoys walking her new pets around and laughs at how embarrassing this would be for them if they went out in public like this. Rylie and Chi Chi have no morals anymore, they only care about sex and whatever Dixie wants them to do. They tell Dixie that they will do anything for her, they will even strip for cash. Rylie suggest they go down to that new club that opened up and ChiChi happily agrees with her. Dixie tells them that sounds like a wonderful idea and gives Rylie a big kiss for coming up with it. Dixie then dresses her new sluts up in sexy lingerie and has them practice posing and acting slutty to attract male customers. Finally she sends them off together to go suck cock and bring her back all their money as she lounges on the couch laughing deviously to herself.
Format: mp4
Resolution: 1920 x 1080
Duratio: 00:19:37
Size: 321 Mb