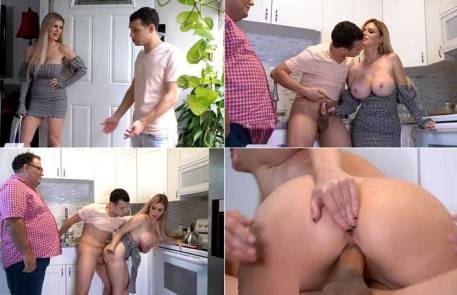 Johnny the uber eats driver shows up to his customers house 45 minutes late. A smokin Hot Milf with huge tits answers the door and yells at him for being late. She then gives him zero tip and a negative rating.
Johnny isn't having it, so he grabs his mesmerizing orb. He knocks on the door again and this
time her loser husband answers. He yells at Johnny and tells him to beat it. Johnny holds out the orb and the husband stares into it. Within seconds he is Mesmerized and the two men walk inside to the kitchen. Meanwhile the Hot Milf is there opening up the bag when she sees the idiot delivery dude and her husband in a trance. She yells at Johnny to leave, but instead Johnny turns on the orb and aims it at the Milf. She is mesmerized within seconds. Johnny proceeds to fuck her while he makes her husband watch for a awhile then he makes him go deliver the rest of the food in his car. When Johnny is finished fucking
her, he gets dressed, turns on the orb and tells Milf she will snap out of trance in thirty seconds. Johnny then hauls ass to his car and leaves. Milf snaps out of it and has no idea where her husband is or what happened.
Format: mp4
Resolution: 1920 x 1080
Duration: 00:17:16
Size: 423 Mb