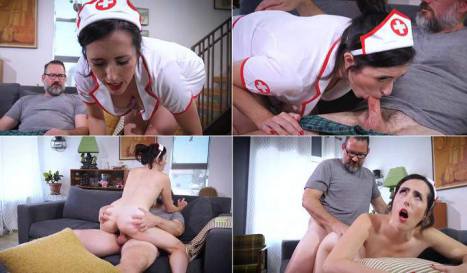 Nate is laid up at home recovering from ankle surgery when his insurance company sends over a new trial version of a Robo-Nurse to help him in his convalescence. She arrives while he's on the phone with his buddy and he can't help but notice that the robot is actually really hot and wearing a really revealing uniform for some reason. He even asks his buddy if he thinks it's unethical to jerk off in front of a robot.
He gets off the phone and the Robo-Nurse starts to examine him and check his vitals. He can't help but to notice her exposed ass and cleavage as she bends over to check his pulse and heart rate. He even manages to cop a little feel when she leans over him to grab another pillow for his foot. When she heads off to the kitchen to prepare something he grabs his phone and texts his buddy, "seriously, you wouldn't believe how hot this robot is!"
When the robot comes back she's carrying a bowl of water with a sponge and she says it's time for his sponge bath. Nate is a little caught off guard as it seems a little unnecessary for an ankle injury but he rolls with it. However he is shocked and embarrassed when she swiftly pulls down his shorts unexpectedly and exposes his boner! He tries to cover himself apologetically but the Robo-Nurse just sits up straight and says, "Erection detected. Now switching to Sex-Robot mode." She then surprises him by grabbing his dick and beginning to jerk him off. Nate didn't even know there was a Sex-Robot mode but he decides he's definitely going to take advantage of it. Soon the robot is blowing him and stripping down to show off her body. Then she climbs on top of his cock and starts fucking him. As she bounces up and down on his cock she starts to make noises like she's actually going to have an orgasm and Nate thinks to himself that they really got the attention to detail right. The robot has a huge orgasm and then smoke starts to pour out of her ears and she begins to malfunction. Her last words are "shutting down" as she goes on his cock.
Nate is very frustrated because he hasn't gotten to cum yet. He tries to bounce her frame up and down on his cock still to finish but it isn't the same so he starts feeling around for some kind of switch or button to turn her back on. Finally he finds something and her eyes pop open as she says, "now entering Super Slut mode." She bends over the couch and demands he fuck her from behind, being way more slutty and aggressive than she was previously. He pounds her pussy doggystyle until he finally cums all over her ass but she just keeps demanding he continue because she isn't finished yet. As he lays back onto the couch exhausted she continues to demand to be fucked until finally she jumps on top of him and starts roughly riding him again as he flails around and tries to get away.
A couple days later, Nate is back on the phone with his buddy telling him the whole story to explain why he now has two bad ankles as well as a busted arm and bandaged head. He says he told the insurance company "No More Robots!" when the door opens and the same Robo-Nurse arrives to take care of him. He drops the phone as he mumbles "No more robots! No more robots! No more robots!" to himself over and over.
Format: mp4
resolution: 1920 x 1080
duration: 00:17:25
size: 417 mb