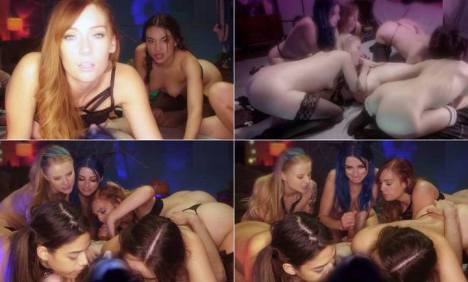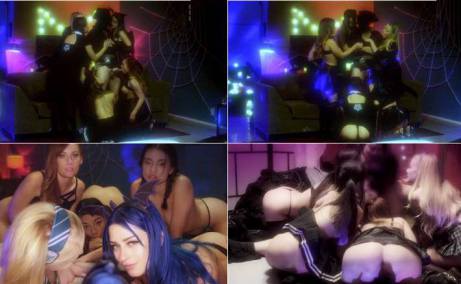 Harmony Wonder's stepdad is surrounded by her sexy friends, Dani Jensen, Jewelz Blu, Liv Wild, and Paris White. They all call him step-daddy as they beg him to stay, beg for the chance to please him, beg for the chance to serve and worship his cock. He knows this is crazy. There's no reason that five young girls should want a man twice their age this badly…are they going to blackmail him? He doesn't know but he also can't help himself, the pleasure is too much to resist.
Dani explains to the coven that magic is the transfer of energy. If they want to power to control men, to make men their slaves, then THEY must become slaves first. They must offer themselves to a man completely as a sacrifice. They must only care about HIS pleasure, they must only serve HIS desires, but if they choose the right man he might not realize the control he has over them. If they chose a man who is desperate for affection they can overload his senses with their whispers, their touch, their kisses, their submissiveness. Harmony knows JUST the man, her stepfather.
The girls all take turns sucking his cock as the rotate around him. Two girls whispering in his ear and tree off kisses while three others kneel before him, sharing his cock and balls until he cums in Jewelz's mouth. But they're not done as they take him over to the bed, strip him and surround him once more. They beg to service him, the plead to use them however he likes, they declare their complete and total devotion to his pleasure. They suck him and kiss all over his body as they lose more and more of their costumes. They wrap themselves around him, coating every inch of his body in pleasure but also preventing him from moving, until he cums again, this time in his stepdaughter's mouth.
But that's just the beginning. They each take turns riding [simulated sex] him while the other four girls each hold down a limb as they kiss and rub his body, making him cum for each of them. Time blends together and he doesn't know how much he's cum or how long they've been fucking. He pleads for a break but the girls beg for just ONE more load. They continue to rotate around him, telling him how perfect he how this is ALL for him. How they want to drain him completely. They want to take every last drop of his cum until there is nothing left. The tell him this is what he deserves, a harem of little girls pleasuring him over and over again. He deserves all this attention and pleasure. He deserves to cum until he can't cum anymore. And THEY deserve all of his cum, all of his energy, they've given themselves to him completely and now its time for him to give them one more load to complete the spell.
Format: mp4
Resolution: 1920 x 1080
Duration: 00:36:00
Size: 3148 Mb