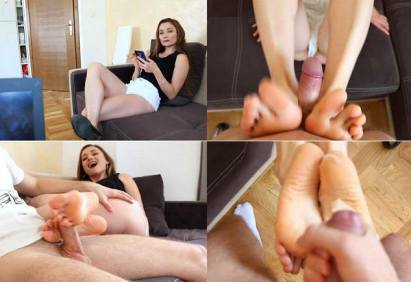 It's a basic Foot worship/ footjob vid with some shoe fetish involvement, will be similar to your " Selfish Girl" but with a cheating story with the guy and his Girlfriend's step-sister.
I try to be clear and exhaustive despite my english is bad. I use some screen for helping you with some scenes/ camera angles.
First of all i need these things:
– Video need to be recorded during daylight at is best camera quality.
– Tia's clothes: T-shirt, Short pants and ballet flats (well worn is better), loose hair, no toe ring, no oil on feet.
– I let you guys max freedom for dialogues, act as more realistic possible.
– Almost all of the scenes are from the man's POV except for few parts.
– no need to undress you or her because need to be a quick realistic cheating fj Smile
INTRO
You are at your girlfriend's house ( Tessa) watchin tv on cough.
After a while Tessa's younger step-sister ( Tia ) back home from school and she sit on cough near you.
While Tia is watching tv and texting with her phone, you start lookin at her feet, she's dangling her ballet flats (take some close shots while she's dangling)
Tessa was in a shower (we don't see her), before leaving the room Tessa said to Tia to prepare dinner, Tia hear that from you, agree and leave the room barefoot, leaving her ballet flats near you.
PRE- MAIN part
Now you are alone, you sneak to her flats and start smelling them ( always from your pov, camera goes inside flats, like if you are smelling for real)
You get back on cough with flats, sit down and take out your cock,start jerkin your cock while you keep the flats on your belly
Tia caught you during the act, she's embarassed and ask you what are u doing, she take back her flats and she put at her feet sayin that you are pervert.
You try to apologize, confess her that you have a foot fetish and a really big attraction for her feet.
Tia get surprised about this notice, she check that her step-sister is still busy with shower, after she goes on cough and ask you to follow her.
MAIN
Tia is sitted on cough and you are on your knees in front of her, she take off her flats and start rubbing them on your face encouraging you to smell them. ( this part from your pov)
After she puts her soles on your face, you start licking her feet very passionately,from toes to heel. ( i use some pics for helping you with camera angles)
END
Ending part will be the same of yours selfish girl 1, when you cum on her soles with a small change:
Tia is lying on her stomach encouraging you to do quickly because Tessa has finished, in this part camera angle is from your pov and switch often from her face ( when ask you to cum on her soles) to her soles.
Finally you cum on her soles and she show your mess for a little time.
BONUS (if possible)
You put your pants on but there's no time to clean your mess on Tia's Feet so she put back her flats before Tessa enter in the room, you guys now act like's nothing is happened and camera show Tia dangling
her flats with your mess.
Format: mp4
Resolution: 1920 x 1080
Duratio: 00:17:41
Size: 1378 Mb