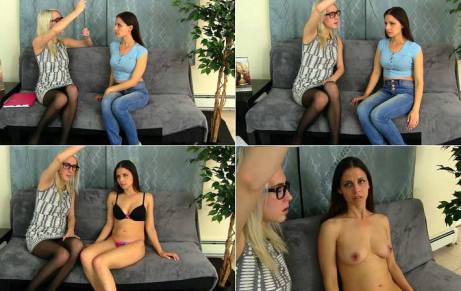 Starving student Cali Logan has signed up with her Psychology professor for some paid case study work. She is letting Ms. Cadence Lux put her under- though she is skeptical that any of this stuff is really going to work.
The induction begins and Cali begins to relax, following the pendant back and forth. Baaack and forth….After a while she begins to let the sound of Cadence's voice control her and things take an interesting turn.
The student begins mindlessly undressing right there in the office. As her hands wander around her breasts, she looks down and sees that she is in her bra and panties. This triggers something and she begins to shake off the spell.
Cadence quickly springs in to action and starts swinging the pendant once again. Cali tries to resist, but cant help but watch it sway gently in front of her eyes. Once again, she is controlled by her teacher, who pushes her liberties even further.
By the end of the session, Cali is completely nude, pleasuring herself chanting confirmations of obedience and mental slavery.
Format: mp4
Resolution: 1280 x 720
Duratio: 00:2012
Size: 263 Mb