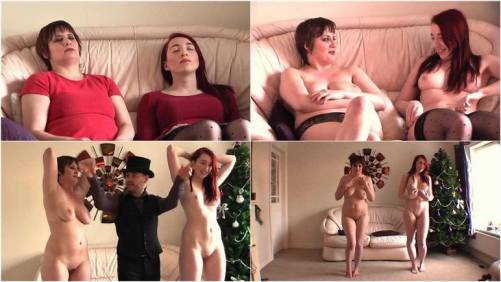 Fantastically fun shoot. Ronnie ("Ambrosia" in our previous shoot) and Setina have worked together before, so there's great rapport all round.
Shy one moment… a little more extroverted the next.
Both ladies tune in and out of trance brilliantly so neither Ronnie or myself hesitate to put Setina in all kinds of sexy and compromising positions whilst she's in "slave" mode, before bringing her back to her senses to wonder at what on earth she's doing. Setina's a great sport, and though it's clear she's at times very confused by everything occurring, she tends to react with a big old laugh. Ronnie reacted similarly, going from being a yowling cat girl one moment, to her usual self the next, albeit wondering why Setina was stroking her like some kind of pet.
Ronnie triggers Setina to pose and go blank.
Later on I do a *lot* of submission and pleasure training with the girls, allowing them to arouse themselves, before switching their pleasure off… or transferring it to the other girl so that in order to cum, she needs to stimulate her friend.
Format: mp4
Resolution: 1280 x 720
Duratio: 00:59:51
Size: 1677 Mb