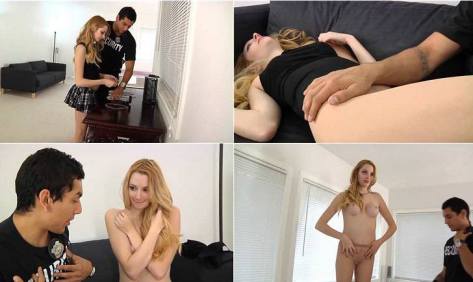 "Sexy Jewel Thief"
Starring Ivy Jones, Javier L.
The world renown jewel thief Ivy jones decided to steal the price jewels from the museum.
She makes her way in by pretending to be a statue.
Waiting for everyone to leave including the guards, she thinks she has out smarted them all.
The guard has a trick up his sleeve that she didn't expect.
With his special watch he freezes Ivy in her place.
When she is unfrozen and realizes she has been caught, she uses all of her sex appeal to try and persuade the guard not to call the cops.
The guard has other plans taking his time to freeze her and undress her sexy body she comes too every time more confused.
The guard enjoys every moment of rubbing her nylon covered legs.
Taking her shirt and bra off reviewing her perfect boobs.
Ivy thinks she has outsmarted him once again when she takes is baton and starts making demands.
He plays along for a moment but quickly takes back control freezing her for good and leaving her as another one of the museums statues.
Fetish Elements: Nudity, Permafreeze, Posing, Foot Views, Body Views.
Note: Actresses are over 18 at the time of filming and the word "teen", "teenage", "young girl" is only meant to imply legal age characters regardless of audience interpretation.
Format: mp4
Resolution: 1920 x 1080
Duratio: 00:22:36
Size: 528 Mb