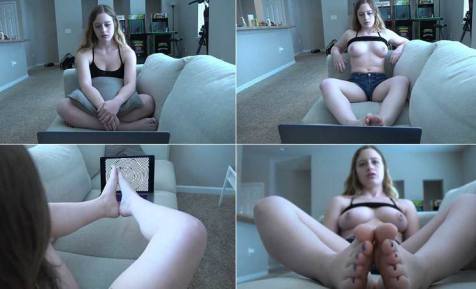 Hazel is chatting online with a random guy when a spiral suddenly appears on her laptop. The man tells Hazel to stare into the center of the spiral. She thinks its just an optical illusion trick, but before she knows what's happening, Hazel is deeply hypnotized. She is made to life her shirt, exposing her bare tits, and then rub her feet together for the camera. Hazel is given mantras to repeat by her master. She remains in a deep trance state and obeys all of his erotic commands until he decides it's time to release her. He has a foot fetish and makes Hazel display her cute, little feet for him in various ways.
Hypnotized by a spiral on her laptop.
Hazel stares into the center of the spiral and repeats back her programming while in a trance.
Made to lift up her top, exposing her breasts, and continue chanting her mantra while looking into the spiral.
Hazel is instructed to stretch out her legs and rub her bare feet together for the camera. She remains in a trance and chants mantras.
Commanded to angle the laptop camera towards the center of the room and sleepwalk back and forth while chanting her mantra. Close-up shots of her feet while walking.
Hazel is made to simulate jerking off a dick with her feet. She holds her feet together and moves them up and down while chanting mantras.
Must send her master pics of her feet.
When she closes the laptop, she wakes up very confused and unaware of anything that just happened.
Topless nudity.
Format: mp4
Resolution: 1920 x 1080
Duratio: 00:11:19
Size: 416 Mb