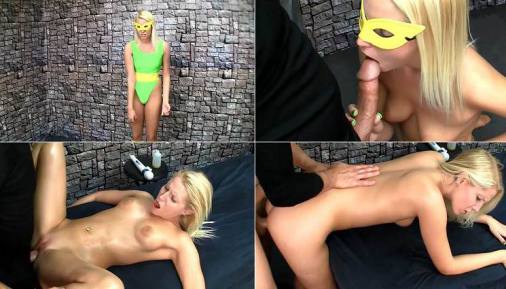 Glow Girl (Vanessa Cage) is confronting the Warlock and is unable to resist his mental commands. She is compelled to strip and then drop to her knees and mentally serve the Villain. Warlock uses his power to put her to rest and then examines her a bit. She is then laid on a table and he strips her out of her nylons.
The Warlock uses powerful arousal oil on the helpless heroin and slowly it awakens and affects her and eventually she has no control over her sexual desires, she is to cum until she gives in completely
Bonus Video- From our earliest days. Superheroine Amethyst (Amiee Cambridge) is in for a physical and falls prey to the evil doctor
Glow girl is a two year old concept shoot that is one of facilitators of some of our current most popular videos. It is not nearly as polished as our more recent productions but it has a lot of the features that our fans love.
Format: mp4
Resolution: 1280 x 720
Duratio: 00:51:22
Size: 1894 Mb