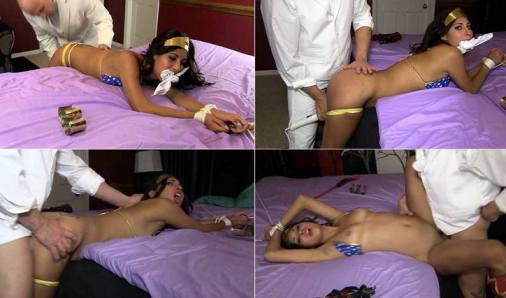 Primal's Disgraced Superheroines
Wonder Star has come to investigate a possible safe house of the infamous Lexx Luther. She is surprised to come face to face with him in the less than fashionable attire he is known for. "Lexx" explains that he is a clone, not nearly as smart as the original, but much much stronger .
Wonder Star isn't sure she believes the "clone" story but quickly takes him down, until he uses a low-blow and a blast of spray mist to get the upper hand. Wonder Star doesn't think the spray had any effect until suddenly she is being totally overpowered by the clone. She takes a terrible beating and is carried away hanging over the clones shoulder.
Wonder Star wakes up bound the a bed and stripped of her power items. The real Lex explains that he has a passion for exploring the line between pleasure and pain. WS struggles but he stuffs a rag in her mouth and then spanks and whips her until is she ready to for pleasure. Lex breaks her until she begs to be fucked. Wonder Star pleads with Lex to at least make it quick but he tells her it is going to last for a long time…
Format: mp4
Resolution: 1280 x 720
Duratio: 00:37:59
Size: 1406 Mb