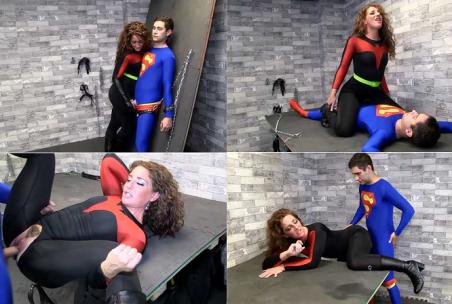 Primal's Disgraced Superheroines
Blud-Hawk broke Dr Jacobison and got away with his secret formulas at least until Supraman shows up and demands she turn it over. The man of steel mocks her for trying to hid in a line lined room when there was a gap in the shielding that he spotted her through. Blud-Hawk tries to play innocent but the lead case she is holding is a give away and Supraman snatches it and slams Blud-Hawk against the wall.
When SM triumphantly tears the case open he feels waves of weakness and realizes the case was concealing kryptonite. Now it is BH turn to gloat. She beats Supraman down and carries him off for more fun.
Blud-Hawk is a master of tease and control and She has the man of steels cock in a kryptonite locked cage of steel. She teases and torments him and only the kryptonite keeps his super erection from shattering the cage. Blud-Hawk takes her time breaking down the man of steel until he is at her mercy, The agony of his cock straining against the cage and the swelling of his balls crying our for release is too much What she demands is a super fuck that only someone as strong as he can give her. She promises to let him go if she promises to give her a super powerful pounding, She moves the kryptonite away once she has his word and offer up her dripping pussy for the shamed hero to fuck his best. Once to powerful Villainess has her orgasm she goes back on her word and uses the kryptonite to recapture SM and then she has him chained down so she can tease and devour his cock, she edges him to an explosion, enjoying her power over him before putting a permanent end to the fallen hero
Format: mp4
Resolution: 1280 x 720
Duratio: 01:02:17
Size: 2314 Mb