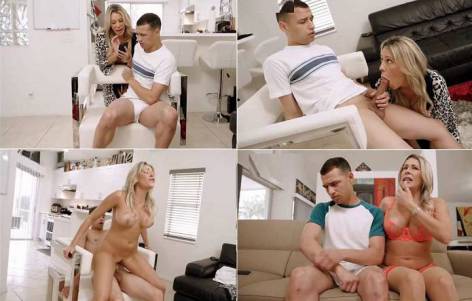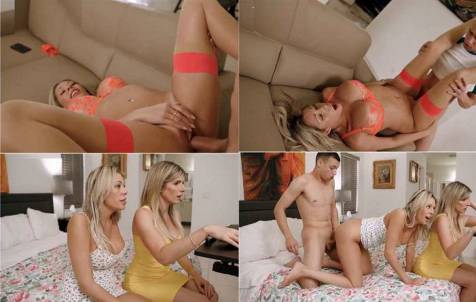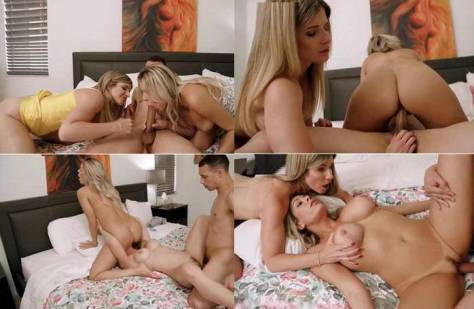 StepMom Catching Me Masturbating To MILF Porn
My step-mom, Nikki, told me that she's going to bed and I finally have some free time alone! I whip my cock out and I look up MILF porn on my phone. I find a good video to watch as I start to stroke my cock. Unexpectedly, my step-mom walks out of her bedroom and she walks in on me! She walks over to me and she offers to help me out by sucking my cock. I can't believe this! She opens up her bathrobe and then she lets it drop to the ground. She stands in front of me, completely naked, as she hops on top of my cock and she starts to ride me. This is definitely better than watching MILF porn! She turns around and she rides my cock in the reverse cowgirl position, and I accidentally cum inside of her pussy. She tells me that it's okay and that I shouldn't worry…
Step Mom Teaches Me How To Last Longer
I was watching TV in the living room, when my step-mom walked into the room. She is wearing nothing except an orange bra with matching panties. She sits down next to me and I confess to her that I finally had sex with a girl from school! My step-mom, Nikki, decides that she wants to help me last longer when I have sex with girls. Nikki starts to teach me how to edge my cock, but then she makes me stop before I cum! Nikki leans down and she puts my cock in her mouth. Then she hops on top of me and she starts to fuck me. She lies down on the couch and I fuck her pussy in the missionary position next. She rubs her clit while I fuck her, and she tells me that if a girl rubs her clit during sex, it means she is turned on! I learned something new today! While I am fucking her, I accidentally cum inside of her… oh no! I tell Nikki that I am so sorry that I failed her. She reassures me that it's okay and that we can just keep practicing!
Step Aunt Catches Me Fucking Step Mom
My Aunt Cory is over our house today, and she and my step-mom are trying to figure out how to get the internet to work so they can use the computer. They call me into the room to try and help, but I don't know how to help! I sit down on the bed behind my aunt and my step-mom and I pull my cock out and I start to stroke it behind them. I can see my step-mom's pussy and ass, because she doesn't have any panties under her dress! My step-mom turns around and she instantly gets horny from seeing my hard cock. My step-mom gets in to the doggystyle position and she lets me fuck her from behind, while my Aunt Cory is looking at the computer screen. We fuck for a few minutes, before my aunt finally turns around and catches us! Nikki starts to explain to Cory how we've been fucking lately, and it only takes us a minute to convince my aunt Cory to join us! The two MILF's start to give me a double blowjob and it feels amazing. My aunt Cory hops on top of my cock and she starts to ride my cock first. My step-mom is watching us fuck and she is getting so wet and horny! My aunt Cory hops off of my cock and it is now my step-mom's turn to ride my cock. My aunt watches me fuck my step-mom and it's so hot! After a few minutes, my aunt Cory lies down on the bed and I fuck her pussy in the missionary position next. My step-mom sits on my aunt's face, so Cory can eat Nikki's pussy while I fuck Cory. I keep fucking the two MILF's back and forth, until I get close to cumming. Then I jerk my cock off all over both of their faces! That was fun!
Threesome To Keep Me Quiet
I am still in bed with my aunt Cory and my step-mom, when my step-brother, Luke, walks into the bedroom. Luke says that he is going to call our step-dad and tell him, so we beg Luke not to! I run out of the room and I decide to let my aunt and my step-mom figure out how to handle my step-brother. They decide to bribe Luke to keep his mouth shut, by letting him fuck the two of them next. Nikki pulls Luke's cock out and he starts to suck Luke's cock. Luke asks if he is allowed to fuck the both of them, and our Aunt Cory tells him yes! Nikki lies down on the bed and Luke starts to fuck her pussy in the missionary position, while Cory watches. I decide to walk back in to the room and join my step-brother while he fucks my step-mom and aunt. Luke keeps fucking my step-mom, while I start to fuck my Aunt Cory from behind. While we are both fucking the MILF's, the MILF's start to kiss each other. My step-brother and I switch which MILF we are fucking, so we can feel both of their pussies! Then we switch back, and Luke fucks my step-mom until he cums all over her pretty face! I am still fucking my Aunt Cory while she kisses Nikki and swaps my step-brother's cum in to her mouth. When I am ready to cum, I explode all over my Aunt Cory's face and in her mouth. Then she kisses my step-mom and the two MILF's happily share my step-brother and I's cum!
Format: mp4
Resolution: 1920 x 1080
Duratio: 01:05:42
Size: 1983 Mb