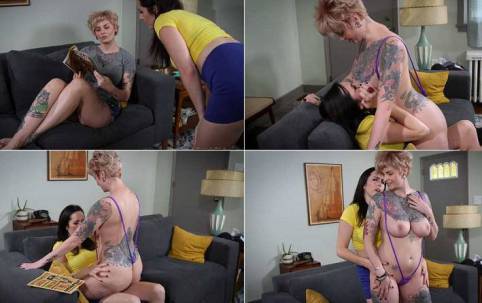 Dixie gets a package in the mail, it's her new Magic ring. She puts it on and decides to test it out on her roommate Ava who is reading a magazine in the other room. Dixie walks over and gets Ava's attention then waves her ring in front of Ava's face and it puts her under a trance, staring blankly ahead. Dixie is excited it worked so she snaps Ava out of her trance and has her roomie do a striptease until she is naked. After admiring her hot roomies beautiful body, Dixie waves her ring and Ava goes back into a blank trance state.
Dixie then implants into Ava's head that she is a stupid bimbo lesbian slut. Dixie snaps Ava awake and Ava jumps at the chance to please Dixie. Ava talks dirty to Dixie and offers her body…she grabs Dixie's hand and makes her grope her tits. She crawls over Dixie's lap and begs for a spanking. Ava then makes out with Dixie. After, Dixie puts Ava back under with the wave of the ring back to a blank stare. Dixie decides to test just how stupid she can make her roommate look. Dixie makes Ava believe that she is now a superheroine named Boob Girl. Whenever she hears the phrase "Oh no! The city's in trouble" Ava will go and change into a skin tight superheroine costume. She will then fight crime with her titanium tits. Dixie snaps Ava awake and the girls fondle and lightly kiss on the couch. Dixie then says "oh no the city's in danger"! Ava gets very serious and excuses herself and runs off with Dixie chuckling to herself.
Soon after, Ava returns in Boob Girl outfit and with her serious superheroine persona. Dixie can't help but laugh maniacally at her poor roommate. Ava believes Dixie is the evil doer that is threatening the city and she thrusts her tits forward as to fire a titty beam but it doesn't affect Dixie (because it doesn't exist). Ava is baffled why it won't work and suggests Dixie must be too strong and decides the only way to stop Dixie is to smother her with her big boobs. Dixie motor boats Ava but Ava thinks she is smothering her. Boob Girl then asks if Dixie if she's had enough punishment. Dixie just says, "I can win at any moment with just a touch of my finger" Ava doesn't believe her evil words and continues to "smother" Dixie with her boobs. Dixie breaks free and says "with my super slut touch I can make you a super slut". Dixie pokes Ava's forehead. Ava steps back and with a slutty tone says she doesn't care about saving the city…she just wants some dick and asks Dixie where she can get a nice cock to suck. Dixie promises to get her all the cock in the world if she can work for it. Ava eagerly agrees she'll work for it and Dixie tells her to give her a sexy lapdance to prove she has what it takes to be Dixie's bottom bitch. Once Dixie's satisfied she sends her to a strip club. Ava returns later with a big wad of cash for Dixie and tells her all about the fun she had at the strip club and how she cant wait to go back out again. Dixie then says, "Oh No, the city's in danger" and Ava turns back into her boob girl persona and runs out the door to fight crime as Dixie laughs and counts up her money.
Format: mp4
Resolution: 1920 x 1080
Duratio: 00:17:21
Size: 197 Mb