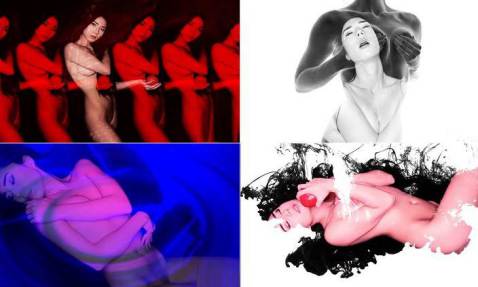 The audio sample of the preview only offers a glimpse into the many themes this file explores, and if you want to explore each chapter, room, and mood, you must view the entire clip (I'm sure it won't be too hard to convince you to do so). Watch the preview with headphones to get a true taste of this clip.
Like I say with all of My intense mindfuck clips, you must watch this in a dark room with your best headphones to get the full experience. And when I say dark, I mean pitch black. There should be no distractions: this is church, after all, and you need to buckle up for this spiritual experience.
Good luck My follower, My disciple, My acolyte, My good boy.
WARNING: This clip contains some flashing images that may cause seizures, and individuals with epilepsy are advised not to view this file. **
Welcome to the Church of Lust, where sinning is mandatory and erotic depravity defines the Gospel. You are encouraged to utilize your lust for a higher purpose, allowing the intense sexual pleasure to guide you toward true submission.
This is a religion that recognizes your inability to resist temptation. Instead of demanding you to attempt the inevitable — such as to reject your hedonistic tendencies — I will help you utilize your sexual energy for good.
God was the serpent who laid the bait. She offered mankind the fruit of sin, and after the first taste, the fate of humanity was sealed.
But Eden — the paradise She built — was never taken away as punishment for the transgression. Eden is still within reach, as long as you abide by the laws of My Gospel.
Allow your lust to bring you closer to Me and the Divine Feminine. Allow your lust to ground you and center you.
But remember that the sexual pleasure is a privilege that comes with unwavering obedience for your Goddess. Luckily for you, the pleasure will only intensify the more you surrender and sacrifice.
Each stroke of that cock will wipe away the selfish thoughts of your mind. Lust is the tool I use to control you and mold you. I wrote the Gospel for My benefit, but I'm not here to harm you.
I'm here to feed you the fruit that will enlighten you. I'm here to free you by dismantling your false desire to be free. You were born to be sexually enslaved by Me, beneath Me, worshipping Me.
Format: mp4
Resolution: 1920 x 1080
Duration: 00:13:37
Size: 980 Mb