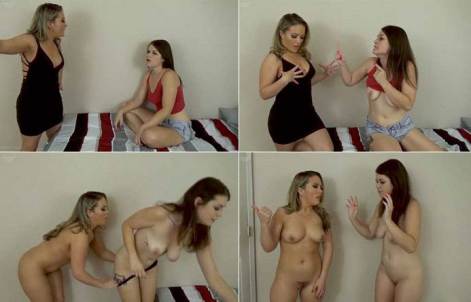 She teased Step-Mom about using all of her credit cards, about hitting on and making moves on her cute boss, about being a step-mom who didn't have to do homework. "You're going to get a promotion and you're going to thank me," she smiled devilishly. She stripped down to explore Step-Mom's older, more mature body, taunting her about the terrible things she was going to do with it.
Anastasia groped Step-Mom's perky tits, then slid her fingers across her pretty pussy, and all Step-Mom could do was tell her to stop – she was helpless from inside her step-daughter's body. To make the situation even more crazy, Anastasia stripped down her own body so that Step-Mom could see all the small tattoos that she had been hiding.
"You're going to have to go fuck my boyfriend tonight…" Anastasia told Step-Mom, "you can't wear this dress with my boyfriend. You need to not look like an old hag." All this was news to Step-Mom – the tattoos…a boyfriend? It was too much. And on top of that, now she had to act like a young girl while her step-daughter corrupted her body.
Anastasia left the room in search of some more provocative clothing for Step-Mom's boss, which left Step-Mom speechless on what to do next. For now, her step-daughter was in charge and there was nothing she could do. No one would believe that they had swapped bodies – that she was inside Anastasia's body. And what if they never swapped back again?!
This clip includes: Carmen Valentina, Anastasia Rose, step-mom & step-daughter are arguing, step-daughter is rebellious & out of control – she is always partying & having sex with the neighborhood boys, step-mom is frustrated & tries to get her under control, the lights randomly flicker on and off, a strange energy fills the air then suddenly vanishes – step-mom & step-daughter switch bodies, swap bodies, body swap, step-mom is inside step-daughter's body & step-daughter is inside step-mom's body, body transfer, body possession, step-daughter teases step-mom from inside her body, she strips step-mom down & explores her body, tit groping, masturbation, step-daughter tells step-mom that she's in control now & that she can do whatever she wants – she's going to use all of step-mom's credit cards & she's going to make a move on her boss, step-mom discovers some secrets about her step-daughter's body, step-mom & step-daughter must deal with one another's lives, body switch, transformation, taboo, older woman, MILF, brunette, fantasies, funny, humor, special effects, sound effects
Format: mp4
Resolution: 1920 x 1080
Duration: 00:09:50
Size: 585 Mb