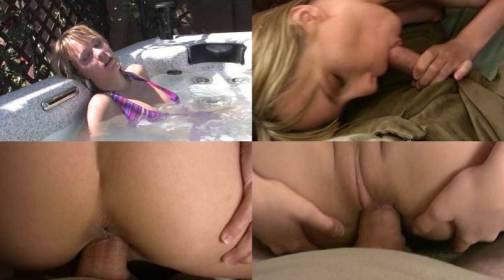 A sexy foreign exchange student has moved into the house previously occupied by Sunset. (See The Dork Squad.) Her name is Blue, and she loves to soak in that jacuzzi just as much as the previous gal. With the help of his mind control duckies, Steve takes control of, you guessed it, Blue's mind, and he commands her to wait for him in the bedroom. When her sleepy trance works, it really works. But sometimes she pops out of it, so Steve keeps the duckies closeby to make sure there's not a peep out of her, not even a quack.
You know, the only thing more refreshing than a midday nap is a midday nap when you're getting your tits squeezed and your pussy fingered. And then getting fucked in cowgirl, mish and doggie, while still sawing the Z's. And Blue doesn't have to wake up for a drink of water, because Steve gives her a load of come all over her face and in her mouth. REEE-freshing!
The beautiful Blue Angel, last scene in the lesbian opus The Agency returns to get the dicking she deserves.
Format: mp4
Resolution: 640 x 360
Duration: 00:48:27
Size: 621 Mb