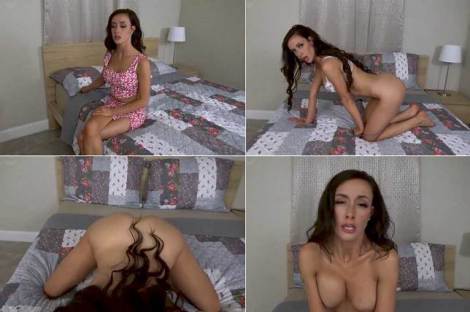 "You're my step-brother and I love you more than anything," Ama said, a serious look on her face, "but this is gross." She had found her missing underwear in your room, and they were crusty, hard, and sticky from your cum. "I know that you're jacking off with them, but you can't have feelings for me like that," she went on to say. "We're close, but this is too far." She didn't want things being "weird" between you two.
In an attempt to fulfill your perverse fantasies of being with your step-sister, you ordered a robot clone of her. You powered on your new fembot, an exact replica of her. "Hello, step-brother, what can I do for you?" the Ama clone said, a sweet smile on her face. Yes, I would absolutely love to have some sexy time with you." She was obedient, following each and every one of your commands. She'd show off her big boobs, slowly strip down, and masturbate alongside you.
"Just like you designed," she said, "it is my programming to please you, step-brother. I love to watch you pleasure yourself." She reminded you that you could adjust any of her settings at any given time. She asked permission to stroke and suck your cock – the idea of playing with you excited her even more.
"I'm wet and lubricated for you," she said, "what position would you like me in? Doggystyle? As you wish." Her eyes widened at how big and hard your cock was, and she moaned wildly as you thrusted in and out of her. She encouraged you to fuck her as hard as you wanted.
"I hope you get plenty of use out of me, step-brother," she said, getting on top of you to ride your cock. "You have control and you can do whatever you want." She wanted your fluids inside of her – for you to fill her with your cum. Once her pussy was full of your semen, she asked if there was anything else she could do for you.
"I'm happy I could be of service," she said, walking to the corner of the bedroom. "I'm always here for you. Until next time, step-brother, powering down."
This clip includes: Ama, POV, step-sister confronts step-brother about him stealing her panties and jacking off with them, she loves him but she doesn't want things to get weird between them, he orders a robot clone of her to fulfill his immoral and perverse desires of being with her, the step-sister fembot is happy to service him, she is obedient and follows each and every one of his commands, she is designed just the way he wants, woman following orders, girl controlled, tit groping, striptease, they masturbate together, she encourages him to jerk off as she masturbates, masturbation, jerk off encouragement, he can adjust her settings at any given time, she asks permission to stroke and suck his cock, virtual handjob & blowjob, virtual sex, doggystyle, riding, cowgirl, she wants him to cum inside of her, simulated creampie, step-brother fucks step-sister, step-brother creampies step-sister, fembot, ASFR, real doll, brunette, taboo, female training, power on, power off, sound effects
Format: mp4
Resolution: 1920 x 1080
Duratio: 00:09:59
Size: 244 Mb