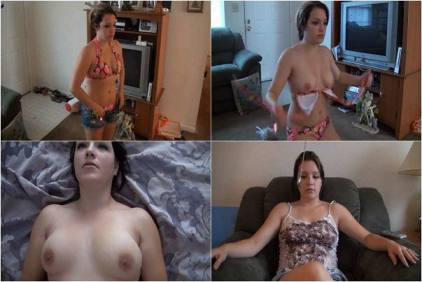 Jordan has just enjoyed a nice morning at the beach with her boyfriend. Jordan thinks she found a really interesting ring at the beach, but unknown to her, her boyfriend had planted it there, knowing that she would find it and pick it up. The ring was designed to overpower its wearer's mind and make that person a mindless slave, open to the suggestions of others.
When they arrive back home, it doesn't take long before Jordan's boyfriend reaches over and activates the ring, sending Jordan into an almost instant hypnotic trance. She strips down to her bikini as commanded by her "master". Her boyfriend has fun activating and deactivating the ring just to watch Jordan's confused reactions and to put her back into her obedient state at any time he wants.
Under his hypnotic spell, Jordan calls him master and performs tasks ranging from withdrawing money at the bank for him, to cleaning the apartment. And of course she won't wake out of her trance before performing the most important task of all: satisfying her master's sexual needs.
Format: mp4
Resolution: 720 x 480
Duration: 00:17:16
Size: 278 Mb