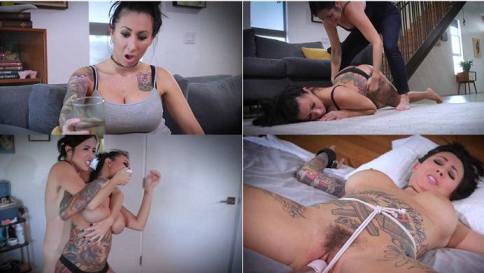 Dixie has Lily over to shoot some clips and when Lily asks what they are going to be shooting, Dixie tells her that she's going to mesmerize her into being her little sex slave. Lily laughs because she thinks Dixie is joking but Dixie continues, telling her that she's already been successful with several other models but she knows Lily is a really tough girl and wanted a challenge and that's why she's spiked Lily's water, to get the fun started. Lily tries to get up but realizes she's starting to feel really sleepy and knows that Dixie is serious. Lily tries to lunge for Dixie, giving her the tough challenge she was hoping for but she's too week already and slumps to the floor. When Lily falls, Dixie pulls her shirt off and leaves her there to nap.
Dixie continues toying with Lily. When she wakes up she tries to leave but finds the door and windows locked and the room filling with gas. She tries to fight it but falls back and Dixie takes her jeans off. When Lily comes to again, she wants to find Dixie and put a stop to this but before she can, Dixie pops out with a tranq dart and gets her in the ass. Lily is tough and fights it hard, even pulling herself back to her fee and lunging for Dixie again but in the end she falls back at Dixie's feet.
When Lily awakens next she's wearing only a thong and is determined to find Dixie. She makes her way up the stairs and looks for Dixie in the bedroom. Unfortunately for Lily she's walked into a trap and Dixie is waiting for her behind the bedroom door. Dixie is already nude as she jumps Lily from behind with a sleepy rag and hold her hand over her mouth. There is a very intense struggle as Lily refuses to go down and fights Dixie with her last bit of resolve. Finally Dixie is able to knock Lily onto the bed and straddle her. The next time Lily wakes up she is tied to the bed with Dixie stroking her body. Dixie fingers her until she cums but she isn't finished yet. She needs Lilly to cum over and over in order for her to be week enough to be brainwashed. She ties a vibrator to her pussy and leaves her there to fight off the inevitable orgasms. Hours later, Dixie returns to find Lily a sweating, drooling puddle of nothingness, ready to be reprogrammed. She sits on her chest and makes her to watch her swinging pendant as she mesmerizes her into her new slutty toy.
Some time later we return to find Lily now standing perfectly at attention with her blank eyes showing her state. She is completely under Dixie's control and does as she's told. Dixie puts her on all fours and vibes her pussy until she cums, reinforcing her control of her little slut.
Format: mp4
Resolution: 1920 x 1080
Duration: 00:28:52
Size: 957 Mb