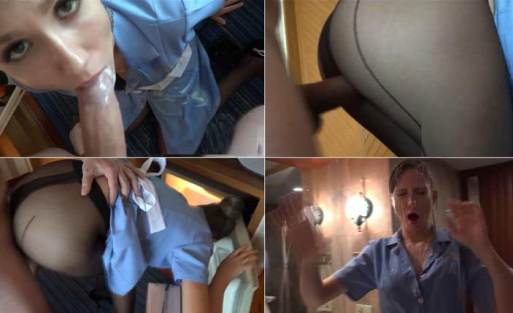 Scene 2 – Mini-bar refresh
"Mini bar refresh!" You knock and I open the door to reveal you standing in the hallway with cum dripping down onto your blouse. [The camera slowly pans down your body to show the cum.] You are holding a clipboard. Addressing me as Sir, you ask if it would be alright to check the mini bar (I nod). You ask me if I have taken anything from the mini-bar (I shake my head). You ask me if you could check how fresh my milk is (I nod). You squat down and open a carton of milk from the fridge. You sniff the contents carefully to check if it is still drinkable. You carefully pour a small dash into your mouth. Suddenly I grab the bottom of the carton and pour more of it to fill your mouth. Before you can swallow, I shove my dick into your mouth causing the milk to gush out as I thrust my cock deep inside your mouth a few times. Milk runs down your uniform. I refill your mouth and repeat a couple of times. You stand and bend at the hips repeatedly to pull out bottles out one by one from the fridge before marking them off on the clipboard. I rub my dick up and down against the back of your legs.
Whilst your are bending over I poke my fingers into your crotch area and pull open your panties to create a small hole. I push my dick into you and start fucking you from behind. Your head is pushed into the fridge every thrust makes the bottles in the fridge rattle. You continue to look through the bottles and make notes on the clipboard for a couple of minutes but your writing gets more and more messy as the thrusting gets harder until bottles fall out of the fridge and you scramble to put them back in. You turn around and squat in-front of me whilst I jerk my cock. You are focused on checking off the form on your clipboard, ignoring how I am jerking off right in-front of you. You tell me that everything seems to be in order except that you think that the milk was not fresh and that you'll need to get more milk. As you are describing how important it is to drink fresh milk every day when… I suddenly shoot a big load of come over your forehead. You look shocked as you scrape a little cum from your forehead and cautiously taste a little. You tell me that this milk tastes fresh and if there's plenty more of it you won't need to fetch another carton.
You see me turn and aim at the side table. You exclaim that you'll be fired if you leave the room in a mess. You jump up dramatically, run and drape yourself over the side table so as to protect it from the shooting cum. I cum on your blouse instead. You see me turn and aim at the bed. You jump onto the bed to protect it with your body. I cum on your legs instead. You see me aim for the study table and you run to protect that. I cum on your dress. You see me walk to the bathroom. You run and squeeze past me to get in first. You see me aim for the toilet. You duck in-front of where I am aiming and take a big load in the face. I turn and aim for the sink. You quickly react to protect the sink with your upper body and face. I squirt the rest of my think cum onto your face. You cry out that you can't see because you have my milk in your eyes. Blinded by my cum, you stick out your hands, trying to feel your way around the room. You stagger out and around the room as if dr..nk, knocking into various things including knocking my underwear all over the floor. Eventually you find your way to the door. You turn to me and say:
"I must get to the hotel manager quickly so that she can taste this fresh milk from my face. I will ask her if she approves your "man milk" as a special room service option for our female guests. If approved, do you agree to being milked up to once every 15 minutes by our female hotel staff?" Camera nods Yes.
For approximately 20 seconds, the camera films you walking down the hotel hallway in the messy state that you left the hotel room in. The camera angle is from directly in-front of you, except when you walk past the cameraman in the final few seconds.
CUSTOMER'S FEEDBACK:
OMG that's one incredibly crazy bottle rattling scene! Showing up at the door with cum on your face… then taking milky loads again and again to protect the room – what a maid! Walking down the hallway in an absolute mess like that… unforgettable.
Format: mp4
Resolution: 1280 x 720
Duration: 00:15:38
Size: 149 Mb