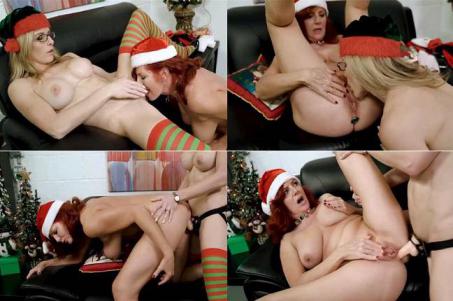 Scene One – Magical Choker
Elf Cory is sitting on the couch peering through a box of assorted toys, as Mrs. Claus walks in to the room. Cory decides that she has the perfect gift for her… a choker necklace that looks like a silver collar. Elf Cory opens the box for Mrs. Claus to see, and she reveals a dildo with a strap on and a bottle of lube. Mrs. Claus seems very nervous and tells Cory that this doesn't seem very appropriate, but Cory insists that it is VERY appropriate and that Mrs. Claus IS going to enjoy herself!!
Elf Cory snaps her fingers and all of sudden the choker necklace begins to glow and puts a trance over Mrs. Claus. Now that Cory has Mrs. Claus under her spell, she convinces Mrs. Claus to strip out of her Christmas outfit. "Now why don't you pull these panties off of your favorite elf? Why don't you get on your knees and go ahead and lick that precious pussy!" Cory asks Mrs. Claus, and she does as she is told. Mrs. Claus licks and sucks on Cory's tight pussy, until Elf Cory flips over and asks her to now eat her ass out. Mrs. Claus devours her favorite elf's ass, kissing and licking her ass hole and cheeks.
Scene Two – Let's Try Anal
Afterwards, it becomes Elf Cory's turn to have her fun with Mrs. Claus. She pulls out a green butt plug and gently pushes it inside of Mrs. Claus ass. Once the buttplug is inside, Elf Cory lubes up her strap-on dildo and sticks it inside of Mrs. Claus pussy. "This is MY pussy!!" Elf Cory exclaims. "Keep fucking that wet pussy with that dick you made just for me!" Mrs. Claus moans back at her. After Cory makes Mrs. Claus cum all over her strap-on dildo, she decides that it is time to pull the buttplug out of her ass as well. She takes the butt plug out in order to fuck Mrs. Claus ass with the dildo this time! "That's it, Mrs. Claus! Take that elf dick in that tight ass!" the Elf tells her. Mrs. Claus can definitely tell that her favorite elf loves fucking her tight ass hole… Mrs. Claus finishes by getting down on her knees and sucking Cory's elf dick nice and hard!
Format: mp4
Resolution: 1280 x 720
Duration: 00:30:05
Size: 351 Mb