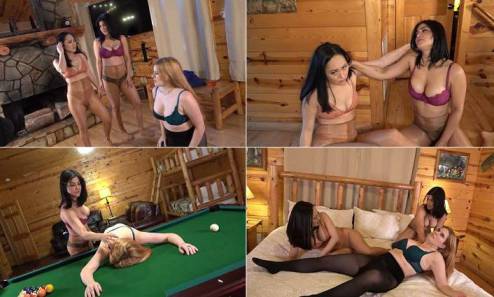 Saya, Sumiko, and Jacquelyn have worked hard to get where they are, and that work has finally paid off! Now that they've distinguished themselves as the standout agents in their field, they're being given an incredible opportunity. The shadowy boss of the agency is looking for a new personal bodyguard, and that position comes with riches these girls can barely imagine.
The only thing standing in their way, of course, is each other. With only one position available, the Devils will need to prove to the boss that they're the singularly most competent agent in his service.
Using a variety of fiendish methods, the girls set about stalking and neutralizing each other throughout the Boss's secluded forest cabin. Again and again, they hunt each other down and reduce one another to eye-rolling unconscious messes. Each time, the watchful eye of the Boss's cameras observe their exploits.
Who will win this seductive game of cat, mouse, and mouse?
Format: mp4
Resolution: 1920 x 1080
Duratio: 00:21:45
Size: 1669 Mb