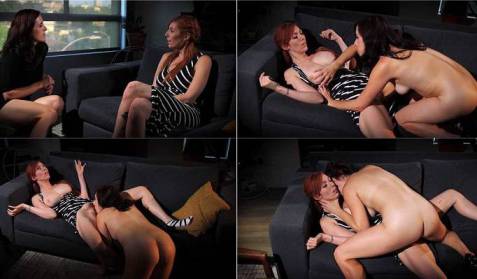 Lauren is a famous author who is writing a book about a goth subculture of clubs that think they are vampires and she's arranged for an interview with Dixie who she is told has personal knowledge of such clubs. Little does she know that through her snooping around she has gotten herself an interview with an actual vampire.
The interview is already going a bit strange, Lauren feels as if her subject is trying to seduce her. Her suspicion is confirmed when Dixie tells her that her associate was correct in assuring her that she would find Lauren quite delicious and then slinks on to the couch next to her and wraps her long legs around her. Lauren is getting increasingly uncomfortable when Dixie straddles her and leans in for a long, passionate kiss. She then asks her why she would want to talk about people playing games when she could interview a real vampire instead. Lauren responds that she doesn't believe that they exist and so Dixie lets out a hiss and bears her fangs.
Lauren screams but to no avail as Dixie sinks her teeth into her neck. She only feeds a little for now, just enough to weaken Lauren. As she gets up and starts calmly removing her clothes, Lauren tries to crawl away but doesn't get far. Dixie throws her back down on the couch and gets on top of her. She works her way down her body, kissing and biting her legs and breasts before finally settling in to lick her pussy. The feeding is so much better when her subject is orgasmic so Dixie licks her clit until she cums and then she climbs on top of her and grinds her own pussy on Lauren's leg to make herself cum as she prepares to bite her neck and drain her. When she reaches climax, she sinks her teeth in and finishes the interview. Having drank her fill she gets up and leaves Lauren there, still and drained.
Format: mp4
Resolution: 1920 x 1080
Duratio: 00:10:37
Size: 621 Mb