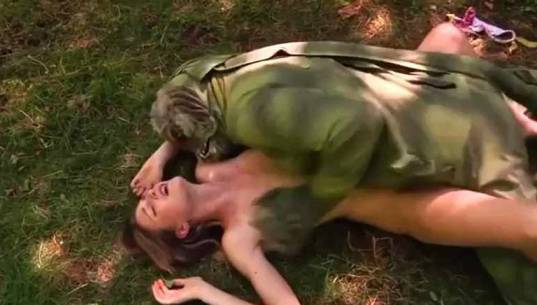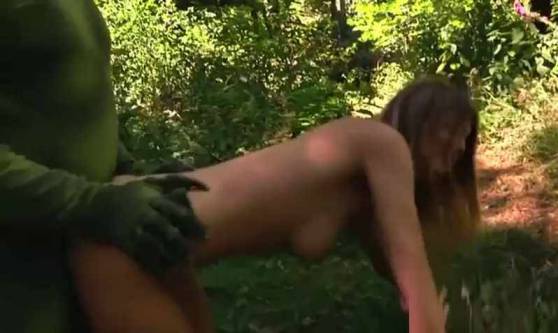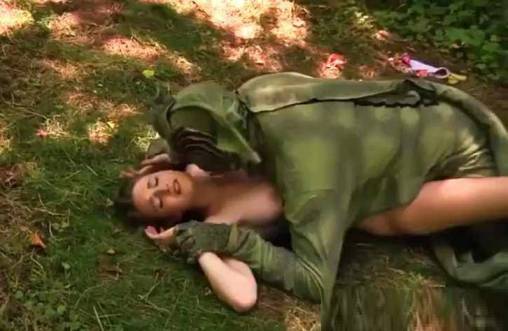 Driven by a primal urge, the river monster oozes from his stinking cave. He is lurking around the river, looking for fish or small woodland creatures he can torment and play with when he hears something. It sounds like music. Alert and excited, the monster crawls toward the sound. Then he spots her. A beautiful maiden, clad only in a bikini, humming to herself. She's alone, enjoying the tranquility of the summer day in the clearing.
He follows her, lurking just far enough away that she doesn't notice his presence. What a beautiful specimen. Another for his collection. She's lost in her own mind, distracted by the sparkling water. The opportunity presents itself to snatch her, and he takes it. He grabs her from behind, knocking her out.
The monster picks her up and carries her to a soft patch of grass. Peeling off her bathing suit, he wastes no time and begins fucking her with his giant green cock. The stench is overwhelming. The damp, scaly flesh feels cold and slimy against her skin. She starts to sob, trying to hit him away by feebly flailing her arms. Grabbing her face and breasts, the monster fucks her hard.
He rolls over, almost satisfied, and she tries to bolt. Nice try, lady. She's obviously never been captured by a river monster before. He grabs her and fucks her again as she sobs, thinking of home. Wondering if she will ever see her family again. How will they find out she's missing? Will people post nice things on her Facebook page?
But the monster grabs her and tosses her over his shoulder. He carries her to the clearing, throwing her clothes at her and lurking back to his cave. He got what he wanted, now to go hunt for dinner…
Format: mp4
Resolution: 854 x 480
Duratio: 00:22:34
Size: 206 Mb