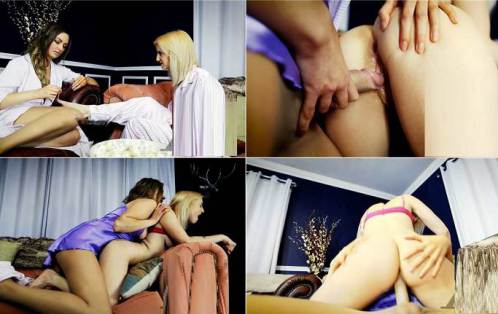 Boy possesses step-mother's body, clit to dick growth, fucking Aunt Lana, creampie
JD peeks in on his step-mother discussing his future with his Aunt Lana. His step-mother is finishing up polishing her step-sister's toenails when she explains to her why she has to send the boy away. He's beginning to behave very oddly, he has penises in jars of formaldehyde in his bedroom, Aunt Lana's eyebrow raises, "from corpses," she asks in a hushed voice. HIs step-mother responded, "no, he says he grew them himself, and that's not the worst of it, he's becoming fixated on me, peeking in on me undressing, sitting in my closet and stroking to my panties. Just last night he stroke himself while staring at me, he spilled his warm cum into my finest Italian lace panties, and I just knew he has to go away." Lana nods in agreement, "for a little while, to make sure he has the chance to be around his own age, maybe then he'll act a little more normal." Jd puts his hand over his mouth in shock then he rushes upstairs to try the experiment he is working on, the portal.
Step-Mother sighs and nods her head, "well, I think it's time to grab a bottle of wine," she leaves and I hear Aunt Lana mutter "you poor thing." I grab the largest penis and make my way through the portal. I'm on my stomach and shimmying my way through the secret concrete passageway when I see the light at the end of the tunnel, it's the window to my step-mother's body. I rush inside, take over, and Step-Mom is stopped right in her tracks. Her eyes go blank, she sharply inhales as I try to steady myself in her tall frame. It takes a few minutes to fully take over her body and Aunt Lana notices the changes, she's concerned, "I need to call a hospital," I hear the words like an echo inside her body. I concentrate to accelerate the growth, pushing the live penis through to her clit, it's growing, growing long and burst through her pantyhose. I completely take over her body and I see my gorgeous Aunt in her satin pajamas. I throw her onto the sofa, I begin to tear off her clothes, "Ashlen, you're unwell!" I touch her body through my step-mother's hands and realize that her body can dominant my petite Aunt, my dripping cock wants to enter my Aunt, it's been my fantasy to fuck her using my step-mother's body for as long as I could get a hard on. "It's happening," I see my Aunt's perfect apple booty and I peel off her panties to reveal the most perfect pussy I have seen, trumping even those I saw on porn starts online. My cock aches to be inside of her and I grab my Aunt's hair and it to go in. The first pumps of my cock were painful to her, but the pain gave way to pleasure and hearing her moan encouraged me to pump her deeper and faster.
Aunt Lana looked over her shoulders and stared into my eyes. She knew me. She could tell it was me. I sneered, "you wanted to send me away," as I pumped my angry cock into her tiny slit. She looked at me with lust and compassion. She thew me down, "it's you, JD, it's you." I nod my step-mother's head, I am the puppet master, her body is mine to do whatever I want with, and I want to cum. I'm surprised that my Aunt took me in her mouth. I didn't have to it, she wanted to do it, she wanted ME! I watch her gorgeous doe eyes as she bobbed her head up and down on my throbbing cock. She stopped to climb ontop of me, "oh yes," I couldn't hold back my excitement. She rode me. She moans and whimpered from the mixture of pleasure and pain that my large 8 inch cock gave her. She came all over me at the same time when I erupted into her. Cum dripped out of her pussy and I was to leave step-mother's body. I was pulled from the shell by a strong that threw me back into the tunnel and into my room. I had the penis in my hand, still wet from my Aunt's cum. I drop it back into the jar. I hear my step-mother wake up whimpering, "What happened." My Aunt grabbed the bottle of wine and showed it to her, "this is what happened.. go back to rest, you're having a dream." She left the room with a wicked laugh as my exhausted step-mother rested with my cum seeping out of her. My aunt and I will have an entirely new relationship from now on, things will never be the same between us. There's no way she'll let Step-Mom take me away now.
Format: mp4
Resolution: 1280 x 720
Duration: 00:14:27
Size: 701 Mb