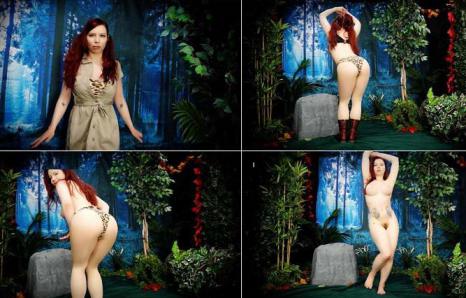 Clip Includes: Magic Control, Mesmerized, Strong Superheroine Brainwashed into Eager Slave by Serpent, Eye Swirls, Transformation, Obedient Slave, Blank Stares, Mindless Stares, Zombie Walk, Stripping to Full Nude, Big Tits, Tit Play, Big Butt, Woman Following Orders, Sexy Nude Dancing, Hip Swaying, Booty Shaking, Pet Play, Acting Like Animals, Clucking Like Chicken, Humiliating, Curvy, Thick, Redhead, PAWG, Slave Position, Letting Down Hair, Hair Whipping, Crawling, Eager to Serve Master, Hairy Bush, Ludella Hahn, Contains FULL NUDITY
Ludella Hahn (aka the Superheroine Jungle Cat) has crash landed on an uncharted island…and quickly realizes she is completely on her own navigating the jungle. Though she has plenty of experience in the wild, it's been a while since she's been on her own..and she finds herself face to face with a slithering serpent with a mesmerizing gift. When she tries to make her escape, he uses his eyes to put her under a spell, swaying his head slowly back and forth, which Ludella can't help but to mirror. "I can't seem to…look…away…" she utters as her eyes grow wide.
The snake uses its power to empty her mind…to brainwash her into a mindless and obedient slave. Swirls fill her eyes during the conditioning, and once it is complete, she obeys every command. "Yesssss, Massssster…." She says in her trance, eyes blank and staring straight ahead. Her arms rise in front of her like a zombie and she begins walking back and forth in front of her new Master repeating a mantra.
She is commanded to strip, and she does so willingly–unbuttoning her dress to reveal her Jungle Cat leotard bodysuit beneath it. She unzips and removes her boots, giving POV a great view of her curvaceous figure and muscular legs. She pulls out her big tits and bounces them for her Master. She can't help but to obey, even when she is commanded to act like a chicken, she obediently flaps and bawks away.
Ludella lets her hair down and wildly swings it around for her new Master. She strips fully nude, peeling off the leotard and shiny pantyhose to reveal her big bare booty, something her Master can't wait to sink his teeth in. She is commanded to slink around like a cat, meowing and moving her curvy body seductively. She dances for her Master, sensually swaying her hips from side to side, giving Master a good view of all her curves. She assumes the slave position for her Master and crawls to him when he is ready for her. "Yesssss, Masssster…I mussssst obey…." She is pleased to serve her new Master. Her mind has been brainwashed to obey…eager to please her Master…to give him everything…
Format: mp4
Resolution: 1920 x 1080
Duration: 00:17:42
Size: 574 Mb