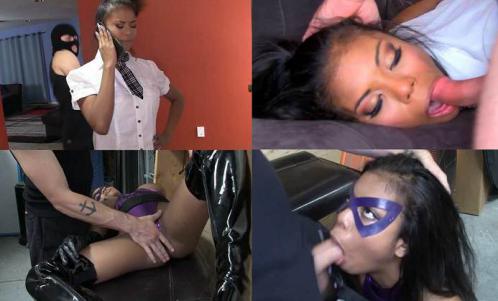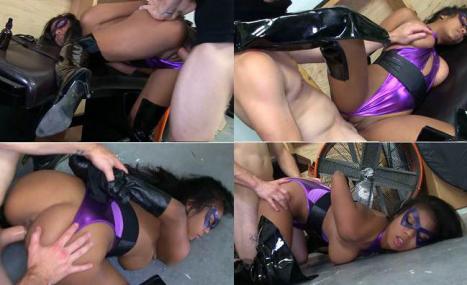 Talent: 1 actress, young, full figure, black
Character is Midnight Girl. She fights crime at night but is college student during daytime.
LM outfit is spandex leotard, knee high boots, mask, cape, belt. Primary color would be purple and black. Maybe a big M on the chest.
School uniform is white blouse, short skirt, socks, tennis shoes
Villain is all in black …character like your Contractor guy
Scene 1
LM comes home from school in her school uniform. Interrupts a burglar and fights him. He is defeated and she turns her back on him to call the police. She is bouncing from foot to foot and acting like a youngteen super heroine.
He gets off the floor and knocks her out with a couple blows to the head. He throws her on the bed on her stomach. He props her ass up with a pillow and fucks her mouth til he cums. Her skirt gets pulled up showing her panties while she is getting fucked. Her ass shaking as he takes her. Several shots of her from behind and the side showing off her ass and legs. 7 minutes of Mouth fucking
He leaves her covered in cum.
Scene 2
LM wakes up and changes into her costume to get revenge.
She follows him to an abandoned building where she confronts him. She gets aerosol sprayed by him paralyzing her. He ties her hands with her cape.
He makes her suck him off again 7-10 minutes bj cum in mouth and then fucks her from behind and eventually cums on her face.7-10 minutes fucking
During this action the spray wears off several times and he has to spray her again. Her top gets pulled down exposing her breasts during the oral sex. Her leotard stays on during sex as do her boots and mask.
He leaves her on the floor ass up and head down and takes a couple stills with his phone of her unmasked face for blackmail.
Sex: oral 5-7 min, oral 7-10 min, from behind 7-10 min
Film length: 25-30 min
Dialogue is usual villain verbal and heroine cockiness turned fear.
Format: mp4
Resolution: 1920 x 1080
Duratio: 00:49:26
Size: 2210 Mb