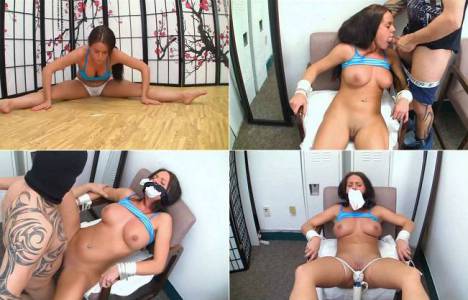 Primal's Disgraced Superheroines
The owner of a local gym has given Lantern a key so that she can have the place to herself while it's closed for a holiday weekend. She is in the locker room looking herself over in the mirror at how her costume looks on her, seeing what areas need some work. The slightly vain superheroine puts her power ring in her locker so that she can work out like a normal girl without being supercharged by the rings energy. She then strips and looks herself over some more while totally nude before putting on her workout clothes.
As she leaves the locker room a masked stranger sneaks in and steals her ring out of the locker and then slips away. Meanwhile Lantern is doing a good yoga workout with lots of stretching. She finishes up feeling tired but refreshed and heads back to the locker room.
She takes time to admire the results of her exercise and then opens her locker to get dressed. Lantern starts to panic when she doesn't see her ring anywhere and just as her back is turned the stranger returns with a soaked white rag and covers her mouth. She kicks and struggles for a good bit, but soon her green eyes begin to roll up and he lowers her body to the floor. The stranger now takes time to enjoy her body a bit, feeling and groping her as he strips her naked
Lantern starts to come out of it to find herself tied tightly to a chair . The Stranger wants to film Lantern cumming like a helpless slut. He has wand tied securely her well used pussy. He wants to leave her coming over and over until the gyms owner returns and finds her that way. Lantern tries to hold off but she starts cumming harder and harder from the vibrations. She can only take so much and she gets weaker and weaker until she .
Format: mp4
Resolution: 1280 x 720
Duration: 00:38:04
Size: 1130 Mb