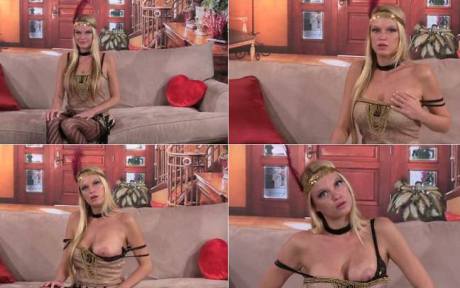 Caroline : You wanted to see me Mr. Hamilton.
Frank: Yes Caroline I wanted to let you know how pleased I was with your performance, I have to say that I'm Impressed, I've never come across a dancer that could pick up choreography like you.
C: Oh thank sir, I've been working really hard.
Frank: Well it shows, however there are allot of other talented girls auditioning for the same spot. Sometimes its not just about dancing ability, Sometimes it comes down to attitude.
C: Attitude sir? I'm not sure I understand what you mean.
Frank: I'm looking for a girl, willing to go that extra mile, if you know what I mean.
C: Not exactly sir
Frank: Well Caroline you are a very attractive girl and lets just say that hasn't gone unnoticed by me.
C: Thank you sir, that is very nice of you to say.
Frank walks behind Caroline, placing his hands on her shoulders.
Frank: Caroline dear, how bad do really want this part?
C: Oh very much sir,
Frank: That's very good to hear Caroline.
Frank begins to massage Caroline's shoulders and then slips his thumbs through the shoulder straps of her leotard.
C: Mr. Hamilton. what are you doing?
Frank slowly pulls down Caroline's straps revealing more and more of her chest.
C: No Don't pull that….Ahhhh
C: ..Warning…Warning…syst…syst…system malfunction…system malfunction…Oh no I'm short circuiting I'm short…short…short circuiting…What have you done? What have done to me.?
Frank: Don't you worry Ill Fix you up good as new. Of course I may need to make a few modifications my new favorite toy.
C: I am not a toy…not a toy….I am not programmed for sex…I am not programmed for sex….not pro pro programmed for sex
Frank: Oh but you will be once I make a few simple repairs and personal modifications.
C: I would.. I.. I.. I would rather cease to function than be your Sex toy….Let…let…lets see you repair this!
Format: mp4
Resolution: 640 x 360
Duration: 00:08:06
Size: 120 Mb