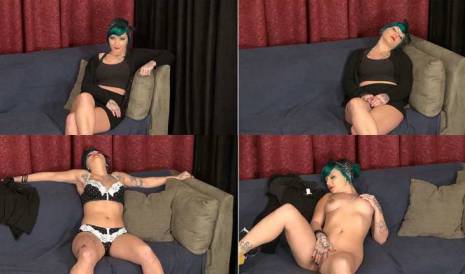 Lily returns looking very cute. She had a lot of fun in her earlier sessions and is eager to go back into a trance for me.
I give her a suggestion to feel like her tongue is swollen when I ring a bell. I also tell her she won't realize she's been entranced. Then I ring the bell while she is saying the alphabet.
Next I make her a compulsive flirt. She can't restrain herself from acting sexily and flirtatious, and she looks incredibly sexy doing it.
Then I give her a suggestion to have an intense mini orgasm when I ring a bell. She really enjoys this one. It makes her squirm with intense pleasure.
After that I have her strip on my bell. Each time I ring it she removes a piece of clothing and has no idea why.
Next I do some mental bondage with her. When I tell her she's stuck she feels like her hands and feet are tied. When she can't move I also make her feel like she's being tickled. Then like someone is licking her pussy which makes her wriggle with delight.
I put her in a trance again and tell her she will awake feeling thirsty. However as she drinks her water it affects her like a powerful aphrodisiac. It makes her intensely horny, craving an orgasm. She gets hornier and hornier. Fortunately I've hidden a toy for her behind a cushion. She excitedly fucks herself with the dildo and comes hard.
Lily can't get enough orgasmic trance.
Format: mp4
Resolution: 1920 x 1080
Duration: 00:29:29
Size: 653 Mb