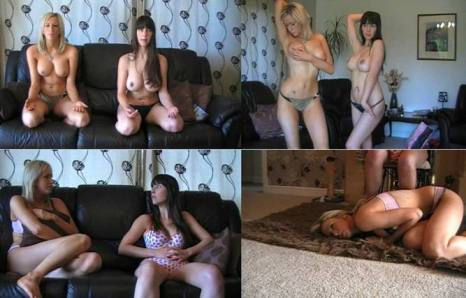 This was my second session with Jojo, and my third with Samantha. This time round, both girls went under hypnosis, (previously, only Sammie went under as Jojo was pregnant when we last worked together) and both had a great time responding to the different suggestions they were given.
We had a couple of new ideas this time round. Brian on our Suggestions page gave us an idea that he calls "The Queen of Evil" where one girl (Samantha) is told that she has hypnotic powers, plans to take over the world, and will use the other girl (Jojo) as an example as she shows off her magical abilities to the camera. Samantha had Jojo kneeling, kissing her feet, giving massages and stripping on command.
We also tried a new twist on our video dating suggestion, this time making both girls think they were sexist guys talking about their ideal kind of woman. Both girls play the part really well, going from being sexy and attractive intelligent ladies, to one-dimensional cavemen with an obsession with sex. It was a lot of fun to see them flirt with one another when we made one a girl again, whilst keeping the other as a guy. Both seemed to have fairly one track minds, (in guy mode) wanting only to stare at the girls breasts, discuss sex, and see them bending over in Yoga positions.
Other highlights include seeing the pair of girls dancing whilst topless whenever they hear music, and seeing how much Sammie managed to embroil herself in the roles of hypno-kitten and hypno-puppy.
Format: mp4
Resolution: 856 x 480
Duratio: 01:09:52
Size: 516 Mb