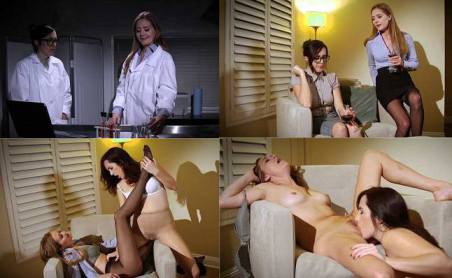 Star is a brilliant but slightly mad scientist who is working in a lab researching a cure for cancer, but instead she creates a superdrug to eliminate female frigidity. Basically Viagra for women but way more powerful. She can't wait to patent her discovery and she knows full well that it will make her rich. However, when she tells her nerd boss Dixie about her serum, her dreams are crushed. Dixie insists that the onlly purpose for this lab is cancer research and that there is no place for a "sex drug" in their plans. She insists that Star destroy the serum and get back to cancer research. Star agrees reluctantly but invites Dixie over for dinner that night so she can have a chance to change her mind. Dixie insists that her mind won't be changed but agrees to join her for dinner anyway.
That evening, Dixie arrives at Star's house for dinner and is immediately offered a glass of wine. She accepts, not knowing that Star has spiked her drink with the sex serum. Dixie takes several sips and starts getting hot. She hands her glass to Star absentmindedly as she begins to unbutton her shirt and take off her clothes. Soon she has lost all control and turned into a sexual she-devil! She rips off the rest of her clothes as her body contorts. Then she leaps for Star, pushing her down and frantically stripping her out of her clothes. She is desperate to get to her pussy. When Star is naked, Dixie dives between her legs and starts to eat her out. Star can't believe how well the drug is working and throws back her head to enjoy her unexpected orgasm.
But then, as Dixie is buried between Star's legs licking her box, the drug begins to wear off as fast as it kicked in. Dixie sits back looking confused. She looks down and realizes she's naked to her horror. Gradually i dawns on her what has happened and she can't believe it. She gathers her clothes and runs off in shock. Star lays back, glowing in her own success, allthough realizing she needs to work on the time release.
Format: mp4
Resolution: 1920 x 1080
Duratio: 00:13:14
Size: 773 Mb