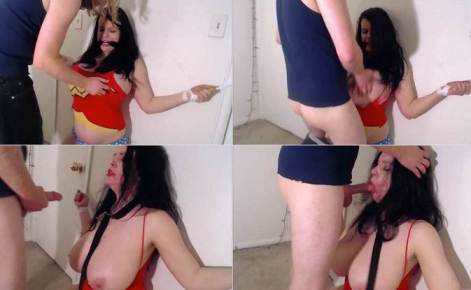 Wonder Lady has been taken captive by a sex hungry villain! His super power? The ability to render her helpless against every one of his perverted desires! She's forced to do his every wish, and she can't fight back!!!
Wonder Lady has become ragged with all of the sexual slavery. Her hair is a mess. Her makeup is ruined. She doesn't know if she can take his cock anymore!
It's no use, however! This villain has her restrained as he forcefully fucks her tits, fucks her mouth until she gags and spits all over herself, and then– he shoots a hot sticky load all over her helpless giant tits.
When she finally thinks he's done with her and she can get some rest, he drags on her torment even longer as he forces her to orgasm repeatedly with the strongest vibration of his devious sex toy.
Will she be saved?
Format: mp4
Resolution: 1920 x 1080
Duratio: 00:07:14
Size: 1083 Mb