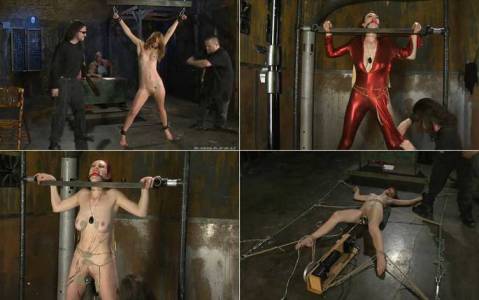 Part 1 – "Crimson and Pinky : The Riot Begins"
In a world where genetic mutants posess super natural powers, some mutants have decided to serve society with protection…while other mutants have banded together in order to profit from society…Young Pinky has been training with Crimson for some time now and Crimson is responsible for giving her direction and focus…but now that Pinky's mutant powers are growing, she has attracted attention from other mutant gangs…Riot and Teeya meet Pinky on her way home, in an effort to recruit her…Pinky goes to Crimson for counsel but leaves without heeding her advice…Pinky decides to join Riot's gang…but she soon finds out that she has been misled…Riot's thugs bind her and strip her…then she is flogged…not only for Riot's enjoyment, but also to lure Crimson to his lair…Crimson senses Pinky's predicament and sets off to save her…Pinky is left bound and naked, but one of the thugs hasn't quenched his thirst for her naked submission…Will Crimson be trapped with Pinky or will she prevail against the thugs?
Part 2 – "Crimson and Pinky : Pinky Bait"
Riot's plan has worked…Crimson has picked up on the torments of Pinky and is headed out to find her…Pinky is naked and chained to the floor…bait…Crimson enters her dressing room and we watch as she pulls on her skin tight suit and zippers those thigh high boots…Crimson is a mutant with many powers…she detects Pinky's location and teleports herself into the room…unfortunately, super strength is not one of her powers and she fails to free the daised and confused Pinky from her chains…Crimson begins to cough from the gasses being vented into the room…the trap has worked…Riot's gang has Crimson bound and gagged next to Pinky…what might their plans be?
Part 3 – "Crimson and Pinky : Crimson's Fate Revealed"
The thugs waste little time with Crimson…she is locked into stocks and shackles and rolled into the room…she is positioned in front of a camera and a voice begins to speak to her…the plan is revealed…they will use Crimson as a surrogate mother to their new race of mutants…but not before they enjoy her first…and the thugs know all too well, if they give Crimson a chance to relax, she can summon her powers of teleportation…which means she needs to be given round the clock torment…the thugs gag her and cut her suit off…electric shock and a fucking machine should keep her occupied…they bring Pinky in to see what has happened to her mentor…then Pinky is dragged away to face her own hell, alone with whatever Riot's gang has planned for her…Crimson is defeated, naked and facing the crude existence of a sex toy to perverts…with never a moment's peace…Anyone want her to escape?
Part 4 – "Crimson and Pinky : Pinky, the Pervert and the Machine"
Pinky must be feeling quite low…after seeing what Riot's crew was doing to poor Crimson, the guilt must be horrible…but Riot doesnt give give her much time to dwell on it yet…Pinky is tied on the floor spread eagle…a fucking machine is tied into her cunt…Riot has a few parting words, then leaves Pinky to be prepped for breeding…she has many hours to spend on the machines until her young pussy is ready for super villain cock…
Part 5 – "Crimson Enslaved"
Crimson's fate is sealed…she lays roped to a bench with her legs spread as the thugs have their way with her…then Pinky is rolled in…a dildo is strapped into her mouth and she is made to fuck Crimson with her head…Then, in a show of new loyalties, Pinky is made to whip Crimson as she is inducted into Riot's gang…but what is in store for Crimson now? Will super villains plant their genetic seed within her? We all hope so…
Format: mp4
Resolution: 1280 x 720
Duratio: 01:03:19
Size: 686 Mb