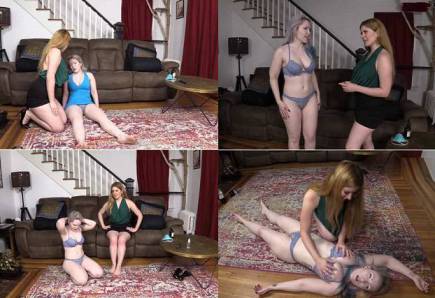 The sleepy industry can be a very hard thing to break into, but if you've got the body, the brains, and the talent, you can make it! This is especially true if veteran Producer and sleepy connoisseur Jacquelyn Velvets takes an interest in you!
When Vonka first got the email from Miss Velvets, she thought that it had to be a mistake. There was no way the infamous Knockout Queen herself had taken notice! But when she arrived at the audition site, she found her hero set up and ready to conduct a screen test! Vonka was so excited she could barely contain herself. According to Jacquelyn, they were just going to go through a few routine "KO acts" to make sure that she had the acting chops to pull it off.
Anyone who knows Jacquelyn Velvets, though, knows that she is a demanding director with a thirst for authenticity.
As soon as the first rag slides over Vonka's face, the ingenue realizes that she's in trouble…that's REAL CHLOROFORM!
She wakes relatively quickly, but she's so desperate for this opportunity. Jacquelyn calmly informs her that all of today's audition knockouts will be real, and Vonka hesitantly agrees to this wrinkle.
Again and again, Jacquelyn tests her new talent. Hopefully, Vonka will last long enough to make it to the silver screen. If not, Miss Velvets can just add her to the pile of rejects laying in the basement.
This movie contains sleepy kissing, eye checks, rag dolling,
Format: mp4
Resolution: 1920 x 1080
Duratio: 00:21:56
Size: 654 Mb