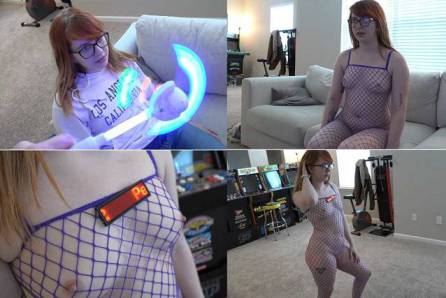 Kami and her husband got married too young, and so they don't have the best marriage. Kami wants a divorce, but all her husband wants is for her to do what she's told. He uses a spiral and a robotic voice to brainwash Kami and convert her into Robot Perfect Wife 3782. Kami's personality is completely removed and her mind is reprogrammed to do whatever her husband tells her to do. She is programmed as the perfect wife, and is given a special uniform to wear around the house. Kami now wears a digital display that always indicates what mode her robotic mind is currently in.
Put into a hypnotic sleep with spinning lights.
12 minute brainwashing / robot conversion segment. Stares into a spiral and is programmed by a robotic male voice.
Wears a fishnet bodysuit through her programming.
Wears an electronic display which indicates what mode she is currently in at any time.
Put into display mode – walks through the room and recites her perfect wife programming.
Put into statue mode – made to pose and show off her figure in various positions.
Put into cleaning mode – made to dust and fold laundry for her husband.
Put into pleasure mode – made to fuck her husband while remaining an expressionless robot. Simulated, no real sex or male nudity.
Full nude under fishnet bodysuit.
Format: mp4
Resolution: 3840 x 2160
Duratio: 00:25:52
Size: 2.19 Gb