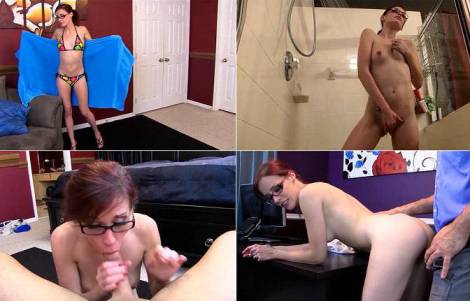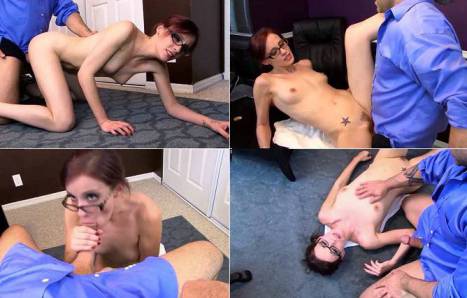 1) An Evening at home/Voyeur
The CEO has made a duplicate key to his assistant's apartment. This scenario includes Jasmine coming home from work (dressed like in the scene above: glasses, a jacket, blouse, skirt, bra, thong and classic high heels, NO stockings or pantyhose) and going about her business with her boss secretly watching.
The scene starts with the executive assistant coming home, relaxing a bit in the living room, walking to the kitchen, etc. Her boss enters her apartment and begins to watch her. After a few minutes she goes to the bedroom to get ready for the night. She slowly and sensually undresses until she is completely naked except for her classic high heel pumps. She puts on some lipstick and puts her hair up (I love ponytails or hair up in a bun).She then walks through the apartment in the nude on her heels, checking a few things here and there, sitting on the couch in the living room, looking at a magazine, etc.The final part includes the executive assistant returning to the bedroom and lying down on the bed, still wearing her heels. She starts playing with herself. Jasmine grabs a dildo and masturbates to orgasm. All the while her boss is watching and stroking his cock. When she finishes she sits on the edge of the bed. At that moment her boss walks up to her and gives her a facial. She is upset and yells at him to leave her house.The scene should have a real voyeur feel with the assistant moving and acting as if she is not aware that she is being watched. Throughout the scene Jasmine should wear glasses, her high heels and leave her hair up.
2) A Handjob in the Shower and a BJ on the Couch
Executive Assistant Jasmine who is again at a conference with her boss comes back into her hotel room after having taken a swim in the hotel pool. She wears a tiny bikini and high heels. Her hair is up and she wears glasses. Jasmine walks around the room in her heels and bikini, sits on the couch, checks her makeup in the bathroom, etc. She decides to take a shower and removes her bikini but keeps her heels on because she feels especially sexy in wearing them all the time. She walks through her hotel room naked except for her high heels and sits on the couch again, crossing her legs, dangling her heels and flipping through the pages of a magazine.Jasmine then gets up and walks to the bathroom where she takes a shower. It would be great if she could keep her high heels on while showering, emphasizing her legs. She masturbates and brings herself to an orgasm (the louder the better). As she takes a final rinse under the shower, her boss appears naked in the bathroom and joins her in the shower. He demands that she give him a handjob which she refuses to do initially but he grabs her arm and her to jerk him off.Jasmine strokes her boss under protest, complaining that she is married and that she should not be doing this. Her boss then her out of the shower. Jasmine has to put her glasses back on, walk naked (heels still on) to the couch and sit down. Her boss stands in front of the couch and demands a blowjob. Again Jasmine reluctantly complies because she wants to remain in the executive assistant position. She gives him head and has to take a facial. The scene ends with Jasmine sitting on the couch, looking with disgust at her boss.
3) Stripping and Sex
Jasmine is dressed in her white blouse, short skirt, bra, thong and high heels, sitting at her desk working on a file. She wears red lipstick with matching nailpolish. hair up and glasses. Her boss comes in and strikes up a conversation.Jasmine's boss has discovered that she has been embezzling money from the company. He confronts her, and after denying it first, Jasmine admits to stealing the company funds. She is getting desperate because she wants to keep her job, having just gotten married and needing to repay a big loan for the wedding.The CEO then demands that she take off her clothes except for her high heels. Jasmine reluctantly agrees but protests while she slowly strips. Once naked, she has to turn around slowly for the CEO who appreciates her beautiful body. She then has to walk slowly through the room on her heels. She remains embarrassed throughout the scene.The scene ends with Jasmine having to have sex with her boss on the desk, both missionary and doggie. She tries to protest but has to submit to being humiliated in order to keep her job.As in the previous scenes, Jasmine should wear her hair up, glasses and high heels throughout.
Format: mp4
Resolution: 1280 x 720
Duration: 00:59:31
Size: 2223 Mb