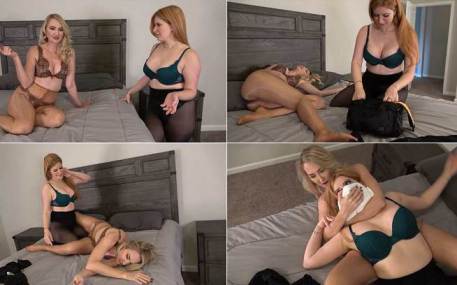 Kendra James and Jacquelyn Velvets are really excited about tonight! They both have dates with dreamy guys that they've had their eyes on for a while. As they start to get ready together, though, it quickly becomes clear that there's a problem…they've both scheduled romantic outings with the same fellow!
After a brief back and forth, Jacquelyn seems to give in. She even recommends an outfit for Kendra to wear. When she returns with the dress though, she enacts an insidious plan: to knock Kendra senseless and leave her to sleep it off. Unfortunately, her plan is interrupted when her opponent wakes up earlier than expected.
At this point, it becomes a free for all. The girls completely forget about John, and instead focus on trading KO's in an attempt to best each other. Will either girl escape this cycle and go out on the date?
This movie contains sleepy kissing, butt slaps, limp limb manipulation
Format: mp4
Resolution: 1920 x 1080
Duratio: 00:26:08
Size: 791 Mb