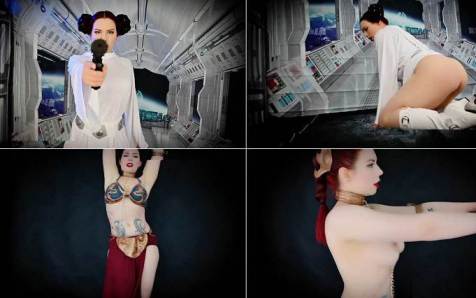 On this particular morning, Ludella is awakened by the sunlight streaming through her window, and is hit with the realization that she's rested through her alarm again after another late night. "No, no, no! They're going to be so mad at me." She says once she puts on her glasses and looks at her phone. Though she can barely bear it, she calls in to inform them that she is running late due to the data report she was working on late last night but that she'll be in very soon. She's told there will be a special assignment for her when she arrives, which has her feeling quite worried, but she's dressed and on her way in a jiffy.\
Hurrying down the walkway, she adjusts her pencil skirt and smooths out her blazer before opening the door…or really, ATTEMPTING to open the door. It doesn't budge. She pulls and pulls, even putting a leg on the doorframe to get a little more power in her pull, but nothing works. "I guess it's locked. That's strange…" She calls her employers to tell them she's outside and that someone must have accidentally locked the door, but she discovers it wasn't accidental. She's to perform a list of outdoor chores today so that she'll better value the job she's had and bungled up to this point. Once she's fulfilled the list, she can resume her normal position.
"But, I'm not dressed for this…and I'm not trained for manual labor. I'm trained in data analysis and customer service…" She protests, embarrassed at the idea of being made to work like a groundskeeper outdoors all day in her professional attire, but they remind her of her recent sloppiness and she says she understands and agrees to do it. They tell her to put her personal effects into the basket outside the door, which she assumes is for safekeeping her purse and car keys, so she's stunned when they tell her it's for EVERYTHING. Every stitch of clothing, her glasses, and every piece of jewelry is to go into the basket. She's to perform every task on the list BUTT NAKED.
"Wait, you want me to do all these chores…NAKED? But…um…let's be reasonable–no, no I'm not saying you're unreasonable it's just that…no no no, I understand. I really want to keep my job, and I know I've really bungled things up recently… So I just do this list of chores and then you'll give me my clothes and my job back? Okay…I understand…" She sighs. Shocked and shamefaced, she puts down her phone (which she's allowed to keep so as to call them when she's finished), and she begins the first humiliating task: to strip off all her clothes.
Format: mp4
Resolution: 1920 x 1080
Duratio: 00:17:30
Size: 484 Mb