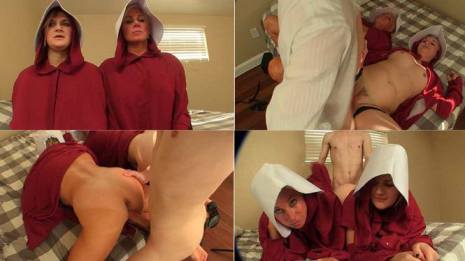 Featuring Fifi Foxx and Aiden Valentine with Payton, this is a start of a series which is a Parody from a new popular series about a dystopian society in which the only fertile women who are left are basically pro creation machines, called handmaiden's.
Payton has arranged for the house boy to come and see her and her partner whom is Fifi to give them his seed. The only way these ladies survive is to produce and they cannot without seed.
He arrives and must unlock Payton's chastity harness and enters her with his hard and fertile cock. Fifi must assist Payton as in ceremony but quickly becomes a greed cock hungry slut who also wants her seed. Aiden fucks them both alternating in missionary first thrusting hard into each of sex starved desperate women. He grabs their boobs which peak out of their long covered cloaks whilest he fucks them. They moan and argue over whose turn it is.
Then he moves them to doggie and again alternates between their hot wet dripping pussies and their swollen sex starved pussy lips. He pounds and pounds . The two ladies both get more aggressive with his attention.
It is hot a sweaty in the modest home they are in but the sex is steaming.
He then rolls the pair back to being flat on their back as he is feeling ready to blow his healthy load of seed. Payton feels it should be her's but then Fifi tightens down her cunt on him and causes him to begin to cum… Payton is furious so she pulls his cock away and shove it deep into her pussy to get the remaining seed. Well all ends well and leaves both women with some hope as this house hand has successfully spread in seed into 2 vaginas.
Wouldn't every guy want 2 ladies fighting over his seed?
Format: mp4
Resolution: 1920 x 1080
Duratio: 00:19:57
Size: 593 Mb