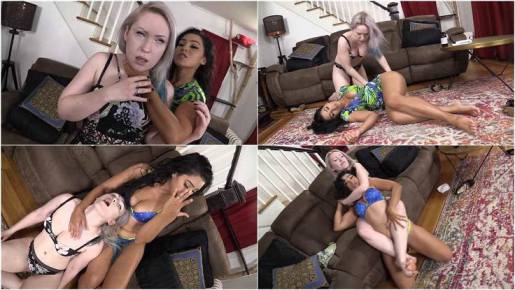 Vonka swore that she'd never work for Miss Velvets again…not after showing up last time only to have Sahrye repeatedly knock her out before she even got in front of a camera! But the pay is just too good, and Vonka has decided to give Velvets Fantasies another chance.
Unfortunately, Jacquelyn is up to the same old tricks, and when Vonka arrives, it's only to find Sahrye ready and waiting once more. Just as with the last trick, the two girls engage in heated sleepy combat, knocking each other out back and forth.
Of course they can't help but take some time posing and humiliating one another…after all, if they didn't have certain predilections for that sort of behavior, they'd never have hit Miss Velvets's radar.
What is Jacquelyn's game here? Does she just do this for the thrill…or does she have a camera hidden somewhere in the room to film these things for her own perverse pleasure?
This video includes leg scissors KO, boob smother KO, OTS carry, eye check,
Format: mp4
Resolution: 1920 x 1080
Duratio: 00:20:35
Size: 617 Mb