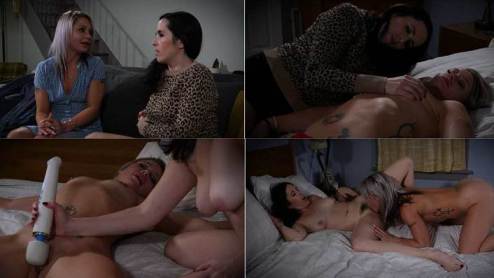 Dixie can't believe her luck when beautiful, young church girl Adara comes to her door wanting to spread the good word about the bible. She invites her in and offers her a cup of tea as she shows her to a seat on her sofa. Dixie heads to the kitchen and prepares some tea, putting a little special something in Adara's cup, as Adara gets out her bible and readies her scriptures. When she returns with her tea, Dixie tells Adara that she looks really familiar to her and asks her if she's ever done any modeling or acting. Adara assures her that her step-daddy the preacher wouldn't allow anything like that and that she just spends most of her time at the church. Dixie laughs and says "it would've been from porn anyway, that's all I watch." Adara's eyes go wide at what she's just heard and she thinks it's time for her to go. She hastily packs her things as Dixie continues to make more and more sexually suggestive comments toward her, making her very uncomfortable. Unfortunately for Adara, the 'little something' Dixie put in her tea is beginning to have it's effect and she is starting to feel very drowsy. She stands to get out but falls right back on the couch and is soon in lala land. Dixie plays with her body and strips her out of her clothes while she chuckles at the fact that she's going to turn this innocent girl into a raging lesbian porn star and make lots of money off of her.
Later, Adara awakens and is shocked to find herself wearing only her panties and in a strange bedroom. She frantically searches for her clothes and a way out when she notices weird gas seeping into the room. She tries to run from it but it fills the room quickly and she collapses at the end of the bed. Once the gas clears, Dixie enters and hoists Adara back on the bed. She strips her out of her panties and plays with her body some more. She's enjoying exploring Adara's naked body, but it's time for the next part of her process and so she goes to prepare.
When Adara awakens again she is completely naked and shackled to the bed with Dixie laying naked next to her. She cringes and tries to squirm away as Dixie kisses her nipples and runs her hands over her body. Dixie grabs the remote and flips on the tv. Adara thinks that this crazy woman is trying to make her watch porn and she averts her eyes but Dixie has other things in mind. She holds Adara's head and makes her look at the tv. Adara is surprised to find a soothing music fill the room and an odd swirling symbol on the tv. She can't seem to look away from it and soon is lost in the image. Dixie grabs a hitachi and starts vibing Adara's clit while she sinks deeper and deeper into the swirl. As she gets closer and closer to orgasm, she becomes more and more mindless. Finally she cums and as soon as she does, Dixie puts her out. Part one of her training is complete.
Some time later, Adara stands nude at attention with a blank expression while Dixie sets up her video camera on a tripod. She stands next to Adara and and tells her it's time to make her first porno video. When she snaps her fingers, Adara's demeanor is changed, she is now a full fledged lesbian porn slut. Dixie kisses her and they fall onto the bed, Dixie climbing on top and grinding on her before making her way down to her pussy. She licks her clit until she cums and then they kiss some more until Adara slips between Dixie's legs and goes down on her as well. When Dixie has an orgasm she snaps her fingers again, putting Adara back into a deep rest. Dixie get up, leaving her on the bed, face down and ass up as she giggle to herself about how much money she'll make with her new sex toy.
Format: mp4
Resolution: 1280 x 720
Duratio: 00:28:09
Size: 399 Mb