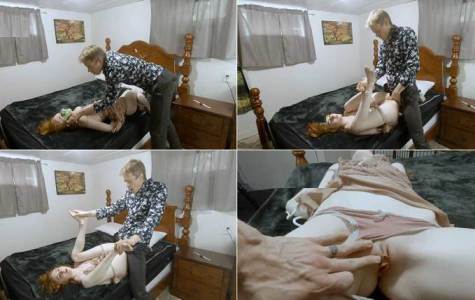 Aarons new teenage girlfriend is shy. This is only their 2nd date, but he managed to convince her to come over.
They are sitting on Aaron's bed, and he wants to try some kinky bondage stuff. She is nervous but she lets him tie her hands behind her back and tie her ankles together. It's very tight and she struggles a bit.
He takes off her shoes and socks and starts playing with her feet. She is grossed out by that, totally uncomfortable and wants him to stop. He picks up a roll of tape. She doesn't want to be gagged and asks him to untie her. He tapes her mouth anyway and decides to film her a bit while she's all tied up.
She is scared and starts struggling and making muffled cries for help. He puts the camera down and has some fun kissing her feet.
Finally, he has one last surprise for her.
Format: mp4
Resolution: 1920 x 1080
Duratio: 00:20:23
Size: 592 Mb