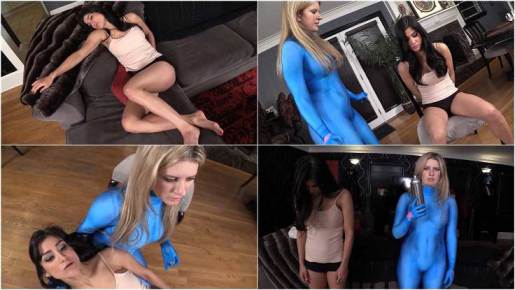 After a brutal day, Saya Savage has finally gotten a spare moment to kick up her feet and get comfy. Unfortunately for her, her home has become ground zero for the next stage of the dastardly Mad Hatter's war against Gotham. True to form, our villain has gone a step beyond the strictly necessary…he hasn't just violated the sanctity of Saya's home. He has conquered her very body! Wearing the gorgeous Saya like a sleeve, the Hatter sets a trap for his nosey nemesis Jacquelyn Velvets.
Jacquelyn may be well intentioned, but she is vastly underprepared for the machinations of the Mad Hatter. Turning Jacquleyn's own penchant for compassion against her, the Hatter rides Saya to an easy early knockout. It looks like it's curtains for Mrs. Velvets! But the tenacious blonde isn't done yet…when she wakes and subdues the Hatter's body slave, it's anybody's game.
Jacquelyn restrains Saya, and prepares to interrogate her, but she's one step behind the Master's scheme. Are the women going to be able to escape the weight of his mental dominance, or will they follow his every command to the ruin of Gotham City…and each other?
Tune in to find out!
This movie contains double sleepy spray KO, over the shoulder carries, body piles, point of view KOs, limp limb manipulation
Format: mp4
Resolution: 1280 x 720
Duratio: 00:18:56
Size: 347 Mb