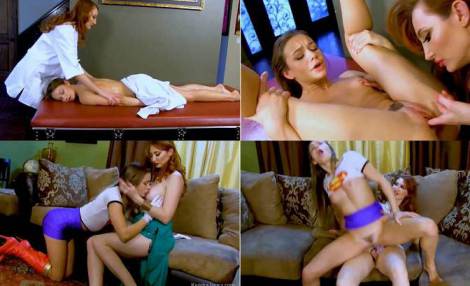 Supergirl arrives for her massage appointment but something is different, her usual masseuse is missing and a striking redhead replacement is waiting. The evil witch Circe, undercover, has come for another heroine! At first, it surprises her at the change in the masseuse, nobody told her about the change.
But Circe persuades her it will be fine. So the girl of steel lies down and evil witch starts the "massage". It isn't long until the sorceress's hands start touching places she shouldn't be touching. The virginal hero gets increasingly agitated, keeps telling her to stop. The devious villain promises to behave. But again, as Supergirl is face down, Circe massages her lower back and the back of the legs. Our hero, getting more relaxed, allows her legs to part slightly and Circe strokes Supergirl's pussy. The relaxed hero moans and arches her back slightly allowing Circe even more access to her pussy. Circe knows that her spell is working and says enjoying this are you Supergirl? Shocked by this the confused hero asks the mysterious masseuse how do know my secret identity??? With a snap of her fingers, Circe suddenly transforms into her Goddess dress. At the same time, Supergirl's panties disappear! The young girls finds she can't move as Circe continues to play with her pussy from behind, pulling on the helpless hero's hair causing her to arch her back more. The poor girl moans and demands Circe stops but Circe continues to tease and stimulate her causing more moans of pleasure from the heroine. Circe continues until Supergirl's pussy betrays her and Circe easily slides her fingers into the wet pussy. Circe then commands the moaning hero to turn over. Reluctantly she obeys, lying on her back and spreading her legs. Circe then gets up on the massage table between the heroes legs and licks her pussy. Humiliated by this but unfortunately, she is powerless to stop Circe and much to her own shame finds herself enjoying it. She is lying on her back holding her own legs up and wide open. Circe licks the dripping juices of the horrified girl's clit. Circe continues to lick and finger Supergirl's pussy until she cums. The broken hero doesn't resist while Circe lies on top of her and kisses her.
Circe cannot wait to humiliate and use her new super slave for whatever devious ideas she may have. Before she can send her out, though Circe must make sure that the hero is truly broken. She commands the girl of steel to come to her so she can pleasure her new mistress. Supergirl tries to resist but the witches' power is to great and she begrudgingly does her new master's bidding. This starts with a kiss that moves to sucking on Circe's tits. Which then turns into Supergirl between Circes leg head licking at the evil witches' succulent pussy. The whole time Supergirl tries to resist but she can't and she continues to please her mistress until the green sorceress reaches a triumphant orgasm. Humored by how willing the girl of steel is Circe does one more humiliating thing to the ashamed hero. With a snap of her finger, Supergirl climbs on Circes giant strap on and rides it for the first time, stretching her virgin pussy to its limit. Moaning in please and pain the hero fucks the hard cock now rammed inside her until she herself reaches a mind-blowing orgasm. Supergirl is completely defeated as she kneels in front of Circe sucking the dildo while Circe strokes her hair.
Format: mp4
Resolution: 1920 x 1080
Duratio: 00:45:12
Size: 1.60 Gb