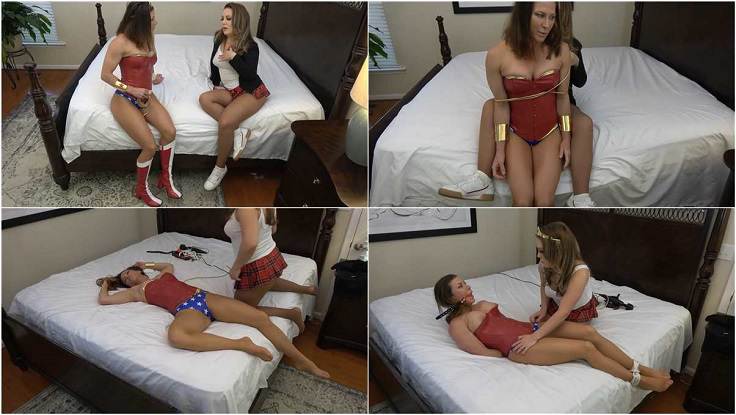 Here is a HOT new entry into my 'schoolgirl Carmen' series of clips, featuring the misadventures of young Carmen Valentina! After many run-in's with other superheroines (see my past work here in the store), today Carmen gets a visit from superheroine Princess Astraea (Ariel X). PA was contacted by Carmen's parents to come by and give her a talk, a lesson on how to be a righteous, upstanding young lady. Of course you all know how kinky Carmen feels about such things!
PA walks up to the front door and announces herself. Carmen answers, clearly annoyed that yet another superheroine is wasting her time trying to make her be a good girl when all she wants is to be bad. PA is led inside, back to Carmen's bedroom. PA tries to get to know Carmen, talking about what she wants for her, as she tries to break Carmen free of her naughty ways. After a brief talk, Carmen asks if she can use PA's magic lasso of truth on her. Wanting to build trust between them, PA reluctantly agrees to let Carmen tie her with the magic lasso. Now under it's control, PA cannot resist answering Carmen's questions. Carmen questions her about various things, starting off wholesome, like where she's from, her powers, etc. But soon it becomes apparent that this was all a ruse by Carmen to capture PA! PA is made to reveal that her powers come from her magic belt, which is removed while she's under control. Carmen then produces something and it finally dawns on PA that this was all an elaborate setup to capture her! But it's too late and PA is captured and subdued!
With PA under her control, Carmen REMOVES HER BOOTS and worships her perfect nylon feet. PA is played and toyed with, with Carmen stealing her tiara and wearing it (Princess Carmen!). PA's body is lovingly fondled as she's MASTURBATED as well, with Carmen sticking her hand under her panties and pleasuring her. PA is kept under control. Eventually a LONG session of PA being bound hand and foot, ballgagged, as her panties are pulled down, her pantyhose ass played with, her breasts worshiped and played with, and masturbated and orgasmed over and over (with a final hitachi orgasm weakening PA). Her helpless defeated body is then slave walked at the end with a slave collar on, schoolgirl Carmen's latest toy.
Format: mp4
Resolution: 1920 x 1080
Duratio: 00:31:02
Size: 920 Mb