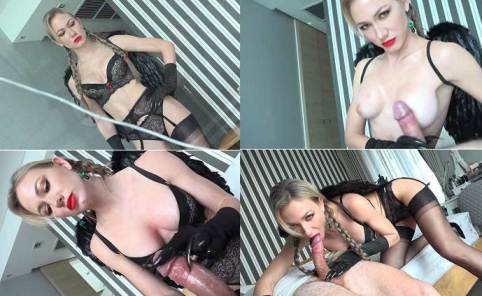 The seventh custom has you dressed as an Angel with the black wings and gloves you bought. As far as the lingerie outfit, I am thinking of lace bras and panties, FF stockings with garters and shoe pumps.
You appear magically standing in front of the guy's hospital bed. You know he is going to soon and were assigned to him to the AL. The problem is, you are VERY impatient. You don't want to wait for him to away, it's taking too long! So, you speed things up for him by teasing him so much. The EKG machine is beeping similar to my last custom. You look at him with anger because he isn't ready yet. He's just lying there in his bed. Your facial expressions are very confident and arrogant, similar to the clip "669 Sweet Lies To Get All Pleasures With Her".
First Real Cum Scene:
You walk up by his bed and begin tit fucking him as he lies in bed. You use your hands and tits as you tease him unmercifully and the EKG machine goes faster and faster. He breathes very heavily as you continue to press your tits against his throbbing cock. Then you jerk it between your tits as massive squirts of real cum erupt.
Second Fake Cum Scene:
You look angry as he is still here! "Really? You lay on top of him as you press your tits against his face as he struggles, similar to my last custom. You look very arrogant when you do it though (no smile).
His dick is thrusting between your legs and he fakes cums several times in this position as you press your tits against his face.
Third Fake Cum Scene:
You straddle him, sitting on top of him as you slowly stroke his throbbing cock. You stick out your chest and breathe deeply, chest sticking in and out as you breathe heavily, making him look at your chest as you stroke his cock with your long fake nails/black gloves. You always have a very arrogant look on your face. You are MUCH better than any stupid mortal. You say to him…. He then shoots many streams of fake cum in this position (please no smiling.. just look arrogant and confident).
Fourth Fake Cum Shot
"You're starting to annoy me. I think it's about time you see what my mouth can do". You then deep throat him VERY SLOWLY with lots of spit/saliva when he lay in bed.
You repeatedly do this and slowly take it out of your mouth. I would like to see it twitch with excitement. You then proceed very slowly and deep and make him fake cum several times in your mouth.
Format: mp4
Resolution: 3840 x 2160
Duratio: 00:19:42
Size: 4,17 Gb